Time-voltage
sectionalizers
TVS time - voltage sectionalizer (Autoself TM) is a control system, including the control cabinet and a disconnector or a load break switch. It can be connected to the most existing switch elements in the network. The Autoself has the same purpose as a recloser but utilizes a much simplier sectionalizing algorithm. The product's reliability has been proven for more than 30 years of operation in electrical distribution networks.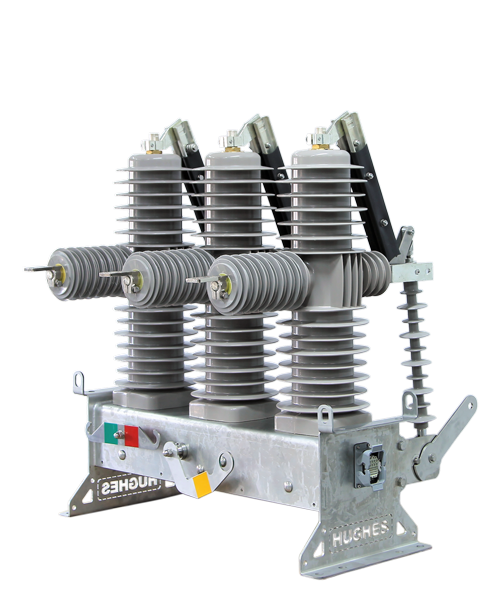 Non-enclosed switch for extra safety

Integrated air break switch for personal safety

Operation On and Off with full load without electric power

Follows the feeding substations reclosing sequence

Easy installation

Frame of "Marine grade" premium stainless steel
HUGHES SECTIONALIZERDESCRIPTION
Hughes' TVS series of time-voltage sectionalizers is designed and manufactured in Sweden for use in overhead distribution lines and as an advanced Smart Grid building block.

The TVS sectionalizer purpose is to automatically clear faults with very short interruptions.

THE TVS SECTIONALIZER types:
TVS sectionalizer for diconnectors;
TVS sectionalizers for load break switches;


The tvs sectionalizer set for a disconnector (1) includes:
The EOA501TVS motor drive with sectionalizing (compulsory);
Disconnector (optional);
Interconnecting cable (optional);
Built in components (optional);
External accessories (optional);

The tvs sectionalizer set for a load break switch (2) includes: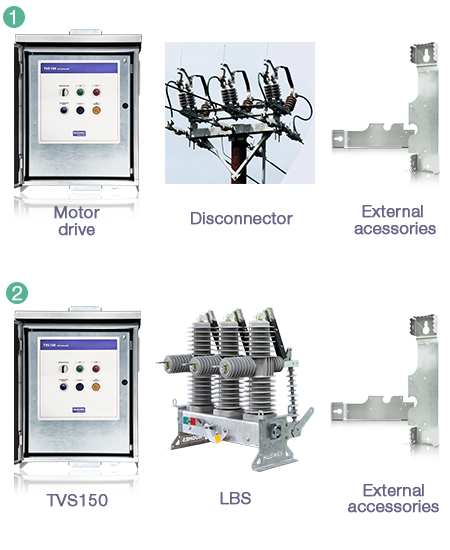 TVS SECTIONALIZER FOR A LOAD BREAK SWITCH MODEL RANGE: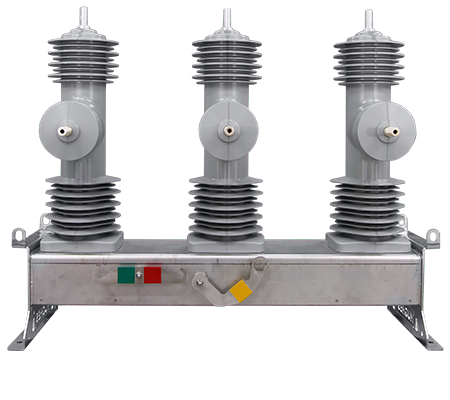 HUGHES SECTIONALIZERADVANTAGES
The TVS time-voltage sectionalizer of the latest generation has the following advantages:
Low maintenance. Hughes sectionalizers are built to remain in operation for more than 30 years without major maintenance due to the highest quality materials used in its construction.
Low initial investment cost. AutoSelf operates without protection relay, fault pass indicator and radio, as open/close operation and monitoring are performed automatically without the need of remote control and communications;
Long operational life time. Up to 20,000 interruptions (one of the longest operating life on today's market) of the well proven LBS load break switch;
AutoSelf can make and break short‐circuit currents if needed, both electronically and mechanically;
Optimized operation. In order to save service life of the AutoSelf and ensure the immediate restoration of the power supply, the AutoSelf operates from the second reclosing cycle. Almost 82% of transient faults are cleared during the first reclosing cycle, that is why the AutoSelf operates only from the second one;
Unlimited number AutoSelf's can be installed with an downstream recloser in the trunk line or branches of the overhead line to sectionalize the network in small sections;
Simple setup. AutoSelf only uses a LBS vacuum load break switch and a TVS150 control unit that contains the time‐voltage sectionalizing logic without complex protection.
Fast restoration. When the fault is cleared, the AutoSelf unit down streams automatically closes with the incoming line voltage (if the reclaim time is not exceeded). There is no need to manually or remotely close the AutoSelf;
Easy upgrade. Hughes AutoSelf can be easily upgraded to a recloser;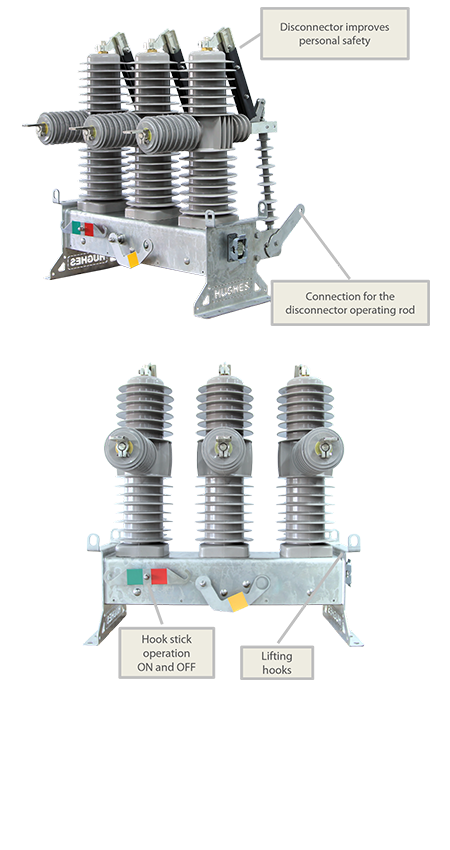 HUGHES SECTIONALIZERBUILDING BLOCKS
lbs vacuum LOAD BREAK SWITCH
The LBS series is a modular building system, enabling to build easy tailored switches for different qualified solutions.
The basic LBS has the following components:
Bushings and insulators (1) with solid epoxy insulation. Silicon coating provides UV protection, is environmentally friendly, does not contain harmful SF6 gas or oil;
Frame (2) made of 5 and 4mm highest quality stainless steel to minimize electrochemical corrosion. The use of stainless steel in accordance with DIN50049 / 3.1B, thanks to its non-magnetic properties, completely eliminates the occurrence of any kind of corrosion, including electrochemical corrosion over the entire life of the product;
Electrical circuit (3) made of high grade copper;
Attachment points (4) for down pole mounted disconnector operation handle;
Spring stored energy operating mechanism (5). It provides turning On and Off the switch module even in the complete absence of power supply (voltage transformer malfunction, full battery discharge).
Manual maneuvering (6) of LBS. Manual charging of the spring mechanism as well as switch operation On and Off are possible with the help of maneuvering arms located on a switch body. The spring capacity is enough for the full reclosing cycle (Off - On - Off) without recharging;
Disconnector switch (7) gives visible open points of all three phases for extra safety. The disconnector (for LBS120 and 240 only) is synchronized with the vacuum interrupter and cannot be open or closed when the vacuum interrupter is closed;
Optional components:
1 set of voltage sensors (8) can be installed on feed side (for LBS121 and 241) or on load side (for LBS405);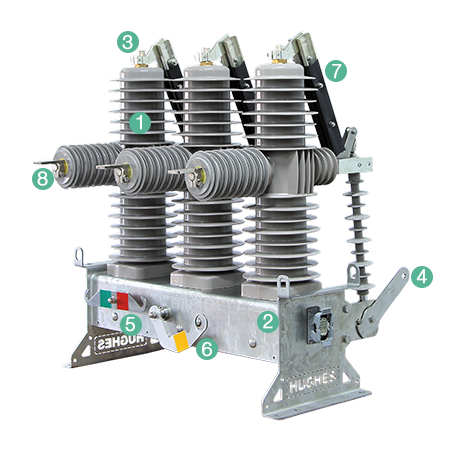 TVS150 CONTROL CABINET
TVS150 control cabinet for LBS has the following components:
External cabinet (1) of highest quality stainless steel. The use of stainless steel in accordance with DIN50049 / 3.1B, thanks to its non-magnetic properties, completely eliminates the occurrence of any kind of corrosion, including electrochemical corrosion over the entire life of the cabinet.
Special double roof (2) prevents the accumulation of the water / snow on the cabinet and protects from overheating of the internal cabinet in hot climates.
Padlock facility (3) handle protects from unauthorized access.
Protection lips (4) from rain water;
Connector (5) for antenna remote control;
Rugged pole mounting brackets (6) for different pole types
Door alarm switch (7) activates when the door is opened and sends the signal to the SCADA system. This feature notifies about access to the cabinet.
Inventive climate system (8) for long term reliability. The lower louvers have a combination of a polymeric fine filter and a PTC thermoelement, which creates a moving air stream to the upper louvers. This air stream always evens out the day and night effect. The bottom of the cabinet has 5 drainage holes with micro filter preventing water gathering in case of any condensation.
Inventive protection system (9) from water ingress via the outgoing drive shaft;
Automatic sectionalizing logic. The TVS150 uses a Time Voltage Sectionalizing algorithm. When a fault is registered by the distribution substation, its circuit breaker trips. At the same moment, the TVS150 devices sense that the line voltage disappears. The first timer starts. After a pre-programmed time, all TVS150 open when the line is de-energized. The network is now divided into several sections. Some time later, the distribution substation's circuit breaker reconnects the outgoing line. The first TVS150 senses that line voltage has returned. The second timer starts. After a pre-programmed time, the TVS150 closes the load break switch. If the line voltage disappears in a pre-programmed time window after the TVS150 has closed its load break switch, it recognizes that it has closed against the fault. The circuit breaker in the distribution substation trip. The circuit breaker of the distribution substation recloses. At the same moment, the TVS150s sense that the line voltage has returned, but they do not close. The auto sectionalizing sequence is now complete;