Kiosk
reclosers
Hughes VXR series of kiosk reclosers is clearly the most advanced and safest product of its kind on today's market. It is built to remain in operation for more than 30 years without major maintenance. The model range is available for 6/12 and 22/24kV.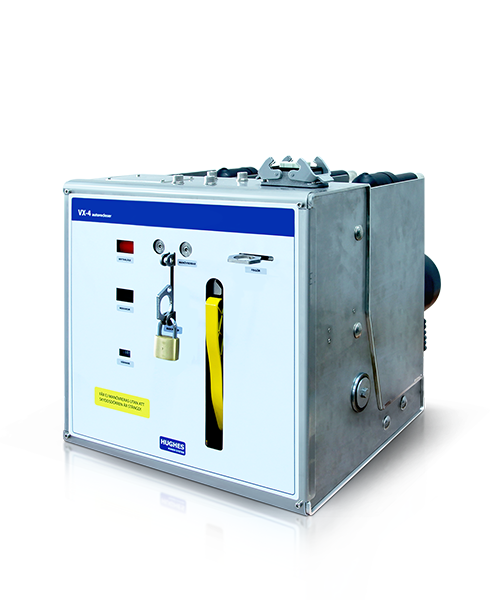 Non enclosed switch for extra safety

Core balance transformer for detecting low earth faults

Operation On and Off with full load without electric power

Solid insulated. No harmful SF6 gas

Same footprint as ABB NAL loadbreak switch

Frame of "Marine grade" premium stainless steel
HUGHES KIOSK RECLOSERDESCRIPTION
Hughes' VXR series of kiosk reclosers is designed and manufactured in Sweden for use in underground distribution lines, in distribution substation applications and as an advanced Smart Grid building block.
The VXR kiosk recloser purpose is to automatically clear faults with very short interruptions.

The VXR kiosk RECLOSER MODEL RANGE:


The VXR kiosk recloser set includes: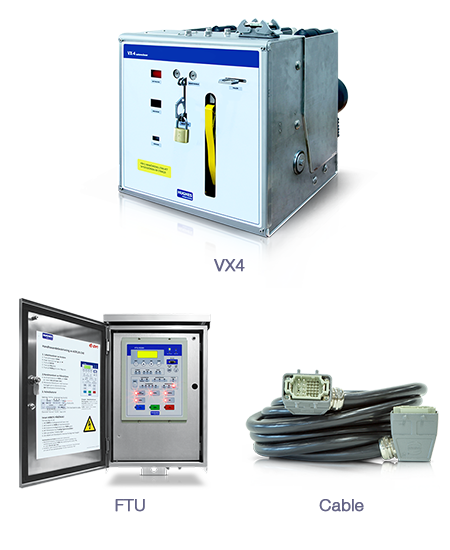 HUGHES KIOSK RECLOSERMAIN ADVANTAGES
The VXR kiosk recloser of the latest generation has the following advantages:
Low maintenance. Hughes reclosers are built to remain in operation for more than 30 years without major maintenance due to the highest quality materials used in its construction;
Live tank construction (1). It completely eliminates the occurrence of internal arc faults and the risk of explosion or destruction inside the recloser switch tank. That makes it repairable in case one of the poles is damaged. It provides improved cooling of the vacuum interrupters due to unhindered air circulation. It has the increased creepage distance that allows the use of reclosers in an environment with a 4th degree of atmospheric pollution and cleaning of insulation without dismantling;
Solid epoxy insulation of bushings and insulators is environmentally friendly, does not contain harmful SF6 gas or oil;
Vacuum interrupter bottles can handle 25kA faults for 3s guarantee long term problem free operation in networks with many high current faults;
Highest quality stainless steel (2) is used for most of the parts to minimize electrochemical corrosion. The use of stainless steel in accordance with DIN50049 / 3.1B, thanks to its non-magnetic properties, completely eliminates the occurrence of any kind of corrosion, including electrochemical corrosion over the entire life of the recloser;
Spring stored energy operating mechanism provides turning On and Off the switch module even in the complete absence of power supply (voltage transformer malfunction, full battery discharge);
Manual charging (3) of the spring mechanism as well as switch operation On and Off are possible with the help of maneuvering arms located on a switch body. The spring capacity is enough for the full reclosing cycle (Off - On - Off);
Padlock facility (4) for mechanical blocking of operation;
Advanced protection relay with functions of directional fault detection, low earth fault detection, intermittent earth fault detection, automatic reverse power flow setting change;
Same footprint and phase distance as old ABB NAL/FN load break switch, which make it very easy to replace an old load break switch with a new generation vacuum circuit breaker;
Truck mount (5) for simple maintenance (optional);
Simple connection to the bus bar (6) or cable (several custom options);
Simple installation in existing switch bays and kiosks;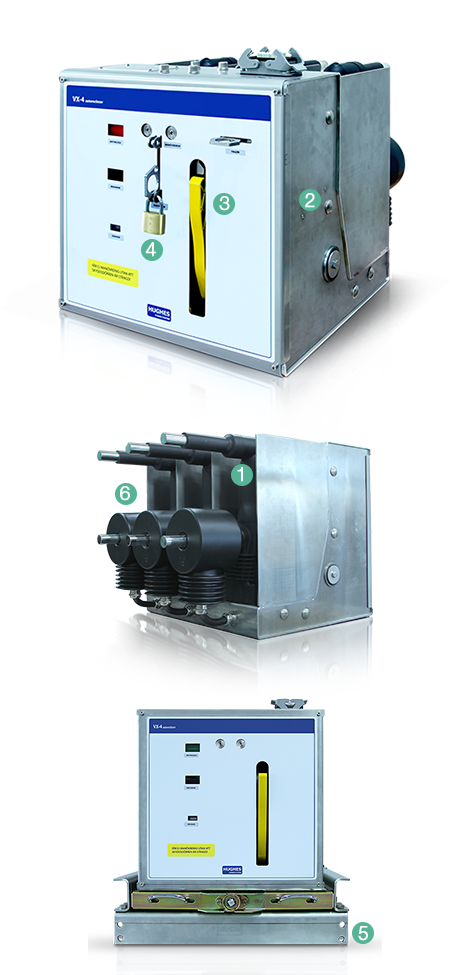 HUGHES KIOSK RECLOSERINSTALLATIONS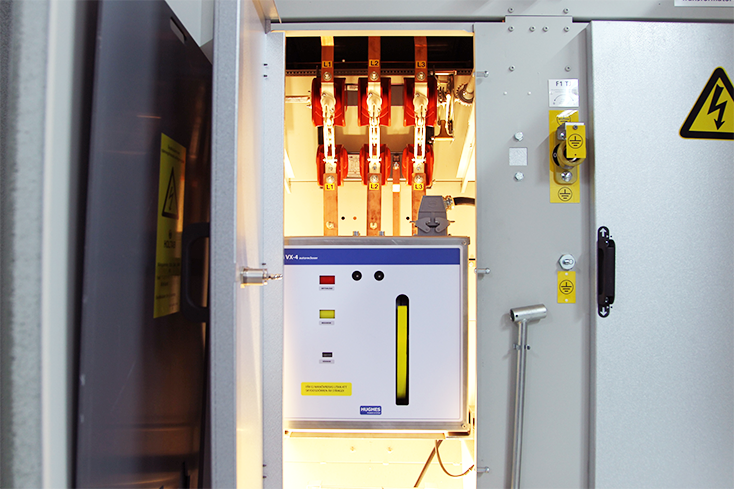 RECLOSER USERS
Utilities with:
weak network infrastructures;
multiple (SAIFI) or long (SAIDI) unplanned interruptions;
lifetime extension of existing network infrastructures;
hostile climate: cold or hot;
many customers per km cable or very rural areas;
regulatory perspective – heavy fines for interruptions;
SAIFI = system average interruption frequency index
SAIDI = system average interruption duration index
HUGHES KIOSK RECLOSERBUILDING BLOCKS
VX4 vacuum circuit breaker
The VX4 series of vacuum circuit breaker is a modular building system, enabling to build easy tailored switches for different qualified solutions.
The basic VX4 can have the following built-in optional components.
Phase current transformers (2). The VX4 can be fitted with phase current transformers with different winding ratio and with multiple tapings;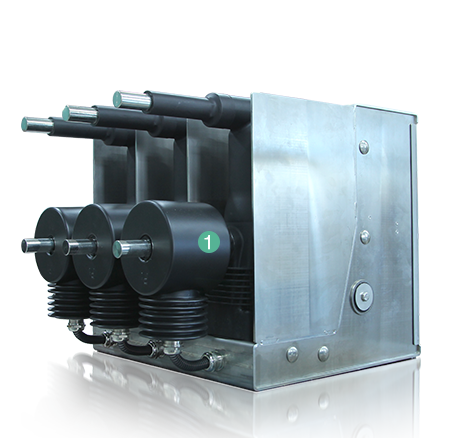 FTU recloser control cabinet
The FTU recloser control is fitted with multiple microprocessors and digital signalling processors for high end performance. On top of the protection functionality, the FTU unit has also built-in RTU functionality for easy SCADA integration.

The FTU unit has built in DNP3, IEC 60870-5-101, IEC 60870-5-104, MODBUS, signalling protocol, optional IEC 61850 and IRIG-B for advanced GPS timing. The connection can be serial, IP/LAN or optical fibre. The OVX and FTU unit can operate in complex Smart Grid application or in a single stand alone application.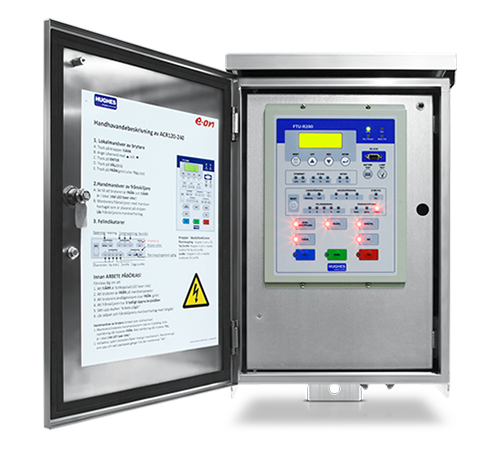 RECLOSER APPLICATIONS
Fault clearance in over-head line networks
Replacement of substation breakers
Fault clearance in underground cable networks
Capacitor bank switch
Trunk and spur lines
Dynamic networks with moving "normal open point"
Remote control
QUICKQ&A
What is a recloser?
A device the automatically disconnects the faults, it includes a vacuum circuit breaker, a protection relay and communication.

How does a recloser work?
It uses the same principle as a primary circuit breaker in a distribution station.
Where is a recloser installed?
In overhead lines and in boundary zones between overhead and cable networks.
What does recloser do?
Fixes up to 87% of faults by opening and closing the line.
How many reclosers can be installed in series on one line?
Max 3pcs