Motor operating
drive
Hughes motor drives represent a complete solution from pole to SCADA. The wide model range is designed for disconnectors and earth switches of both reciprocating (up-down motion) or torsional (rotating motion) types. The applications are from lower voltage in trams to medium voltage in railways and electrical distribution, as well as heavy motor mechanisms in high voltage disconnectors and earth switches.

The standard products can be customized with the assortment of internal components and external accessories.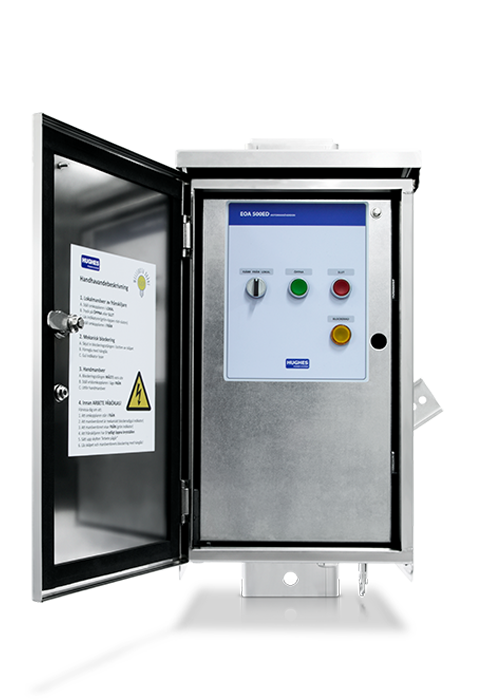 Unique motor mechanism

Secure self-locking motor mechanism

Easy installation and compatible with most disconnectors

Optional automatic sectionalizing logic

Optional remote blocking unit for locking the output shaft for extra safety

High quality stainless steel for cabinet and parts
HUGHES MOTOR DRIVESDESCRIPTION
Hughes EOA motor drive series is designed and manufactured in Sweden and introduces a wide range of motor operation mechanisms for disconnectors and earth switches for different applications. Information on Hughes disconnectors is here.

The EOA motor drive types:
Rocking type. This type of motor drives is designed for disconnectors with vertical motion;
Rotating or torsional type. This type of motor operating drives can be connected to most existing disconnectors with horizontal motion control rod;
Motor drive with auto sectionalizing function. This type of motor operating drives is designed for automatic sectionalising and for manual remote control of disconnectors;
The EOA motor drive model range:

The EOA motor drive includes:
External cabinet made of non-magnetic stainless steel (compulsory);
EOA motor mechanism (compulsory);
Built in components (compulsory and optional);
External accessories (optional);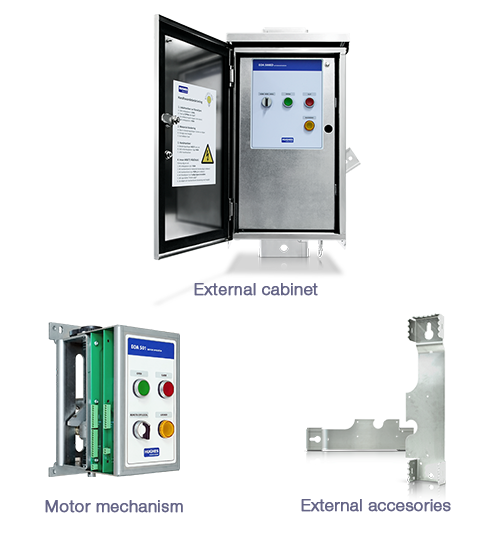 HUGHES MOTOR DRIVEADVANTAGES
The EOA motor drive of the latest generation has the following advantages:
Complete solution from a pole to SCADA system;
Low maintenance. Hughes products are built to remain in operation for more than 30 years without major maintenance due to the highest quality materials used in the construction.
Easy installation and compatible with most disconnectors;
Multiple power options: voltage transformer, insulation transformer or solar panel;
External cabinet (1) of highest quality stainless steel is available in many sizes. The use of stainless steel in accordance with DIN50049 / 3.1B, thanks to its non-magnetic properties, completely eliminates the occurrence of any kind of corrosion, including electrochemical corrosion over the entire life of the cabinet;
Special double roof (2) prevents the accumulation of the water / snow on the cabinet and protects from overheating of the internal cabinet in hot climates;
Padlock facility handle (3) protects from unauthorized access;
Protection lips (4) preventing accumulation of the water drops under that cabinet;
Rugged pole mounting brackets (5) for different pole types;
Door alarm switch (6) activates when the door is opened and sends the signal to the SCADA system. This feature notifies about access to the cabinet;
Local operation panel (7) with indicators;
Connector (8) for remote control antenna;
Multiple cable glands (9) in the bottom of the cabinet;
Different motor mechanism principles with exact fit for its purpose;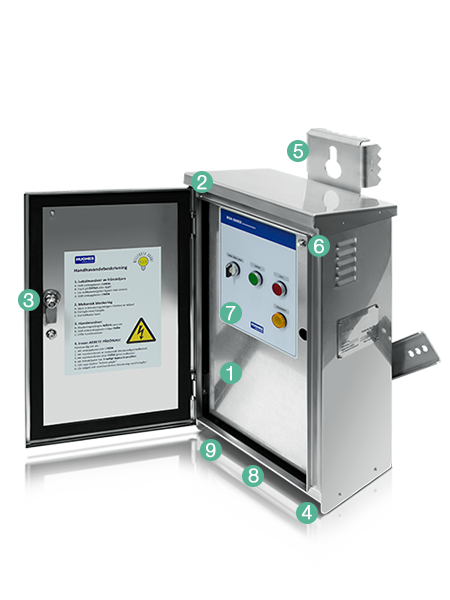 HUGHES MOTOR DRIVECOMPONENTS

The EOA motor drive external cabinet has the following components:
Motor mechanism (1);
Standard lead acid AGM type battery (2) 2 x 12 V 20 AH;
Temperature compensated battery charger (3) (UPS);
MCB's for input power and battery;
Start button for UPS;
Internal ventilation system (4) with special filter;
Heating system (5) to prevent condensation and to give the electronics a long life and a good working environment;
External accessories:
NEW! Cable multiplexer system is designed to connect a modern remote blocking motor drive with 6 or 14 wire system to an old 3-cables SCADA system. See details in the catalogue;
Optional components and External accessories are listed in the description of each model.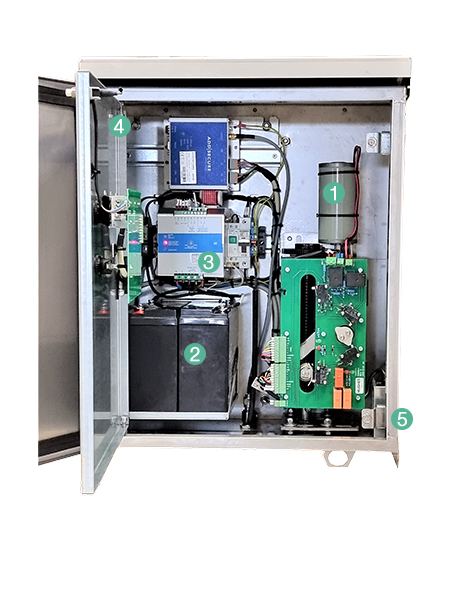 HUGHES MOTOR DRIVEINSTALLATIONS