Recloser
controls
Recloser controls are the front line of the distribution power system, often located on feeders or in distribution substations. Recloser controls supply the intelligence to the network and handle the network protection and in many cases even the RTU functionality. The protective relay senses the faults, assists the vacuum circuit breaker module in a recloser to clear the fault on the line.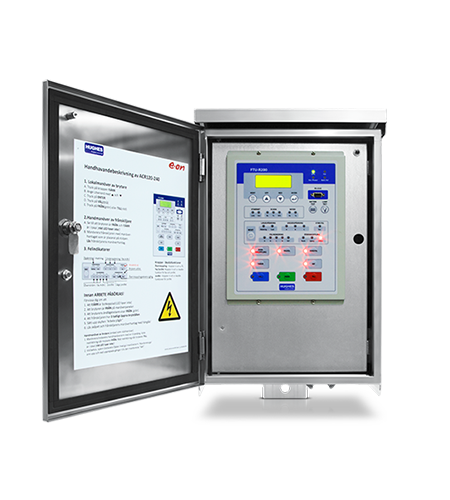 Remote configuration of all functions, including firmware updates

Directional sensitive protection elements for over current and earth faults

Multi communication protocol, Modbus, DNP, IEC -101, -104 and 61850

3Io Cos (Active Measuring) and Intermittent (> 150 μs) ground fault detection

Cabinet and mounting bracket of stainless steel

4 separate protection groups with automatic power flow direction change
FTU CONTROL CABINETDESCRIPTION
Hughes FTU recloser control cabinet is one of the building blocks of the ACR recloser set. The main part inside the cabinet is the FTU protection relay unit that senses the faults and assists the OVX vacuum circuit breaker to clear the fault on the line.

The FTU protection relay model range:
FTUR200 standard model for all voltage classes;
FTUR300 (coming soon) high end model with colour touch LCD, Wifi and Bluetooth;


The FTU recloser control cabinet includes:
FTU cabinet made of non-magnetic stainless steel (compulsory);
FTUR200 or FTUR300 protection relay (compulsory);
Built in components (compulsory and optional);
External accessories (optional);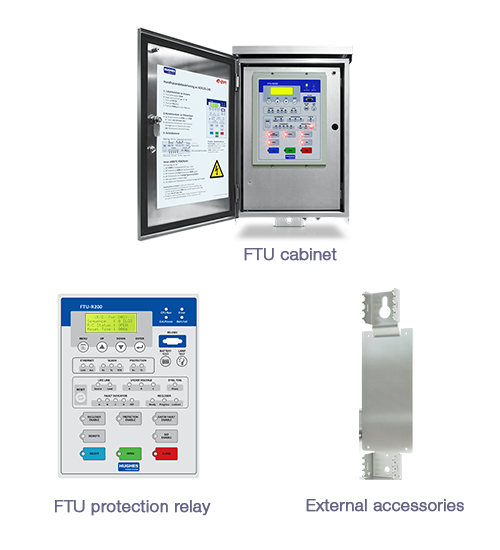 FTU CONTROL CABINETADVANTAGES
The FTU recloser control cabinet of the latest generation has the following advantages:
Low maintenance. Hughes products are built to remain in operation for more than 30 years without major maintenance due to the highest quality materials used in the construction.
External cabinet (1) of highest quality stainless steel. The use of stainless steel in accordance with DIN50049 / 3.1B, thanks to its non-magnetic properties, completely eliminates the occurrence of any kind of corrosion, including electrochemical corrosion over the entire life of the recloser cabinet.
Special double roof (2) prevents water / snow accumulation and protects the internal parts from overheating in hot climates.
Padlock facility handle (3) protects from unauthorized access.
Protection lips from rain water (4);
Connector for antenna remote control (5);
IP67 connector for switch head remote control (6);
Door alarm switch (7) activates when the door is opened and sends the signal to the SCADA system. This feature notifies about access to the cabinet.
Advanced protection relay (8). The FTU relay is fitted with multiple microprocessors and digital signalling processors for high end performance. On top of the protection functionality, the FTU unit has also built-in RTU functionality for easy SCADA integration. Protection relay is available in English and Spanish languages. FTUR200 protection relay model functions are here. FTUR300 protection relay model description is coming soon.
Inventive climate system for long term reliability. The lower louvers have a combination of a polymeric fine filter and a PTC thermoelement, which creates a moving air stream to the upper louvers. This air stream always evens out the day and night effect. The bottom of the cabinet has 5 drainage holes with micro filter preventing water gathering in case of any condensation;
Inventive protection system from water ingress via the outgoing drive shaft;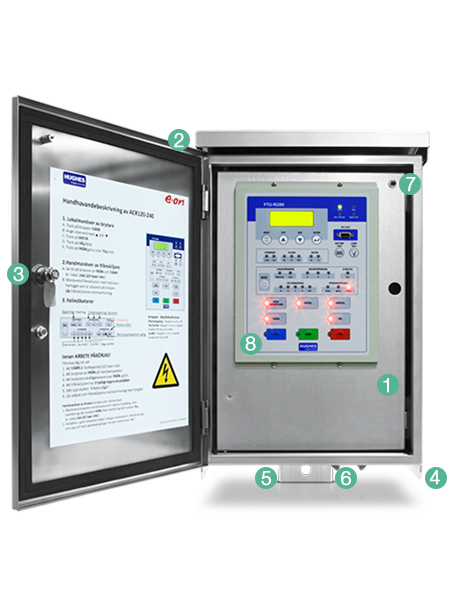 FTU CONTROL CABINETCOMPONENTS
The FTU cabinet has the following components:
Protection relay module;
Standard lead acid AGM type battery 2 x 12 V 20 AH;
Temperature compensated battery charger (UPS);
Disconnectable terminal blocks for easy test of functions;
Internal ventilation system with special filter;
Heating system to prevent condensation and to give the electronics a long life and a good working environment;
Optional components:
Lightning protection for the antenna gland;
Li-Ion batteries for high temperature climate zones, 2 x 12.8 V 20 AH;
Input power (110 or 230V) surge arresters;
Communication unit option A: GIO-100 GSM/4G/LAN Router with IEC60870-5-104 signalling protocol and IPSec encryption and IP filtering;
Communication unit option B: GIO-200 GSM/4G/LAN Router with IEC60870-5-104 signalling protocol and IPSec and Open VPN encryption and IP filtering;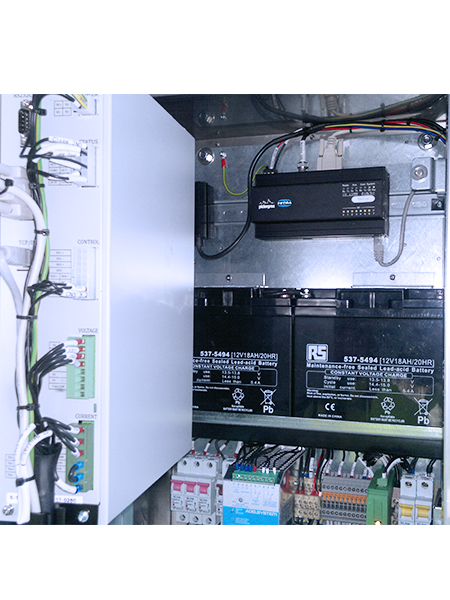 THE FTU control cabinet EXTERNAL ACCESSORIES:
Rugged mounting brackets (1) for different pole types;
New! Grounding system cable theft alarm (2). See details here;
Antenna set for GSM/4G including: antenna, multi band professional glass fibre rod; pole mounted bracket for antenna; antenna cable 8M RG-213 N-N professional connectors and surge arresters for antenna N-N connectors;
Voltage transformer for 6/12kV, phase to phase connected, epoxy insulated with pole mounting brackets;
Insulation transformator 230/230 VAC
Surge arresters (3) for 6/15kV with mounting brackets;
Drop out fuses (4) for 6/15kV with mounting brackets;
Complete list of additional accessories is here.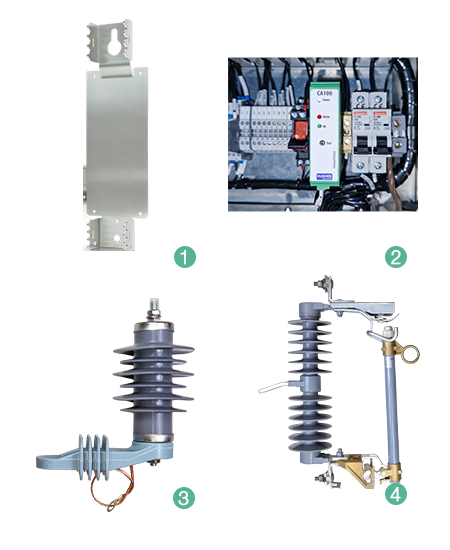 FTU CONTROL CABINETINSTALLATIONS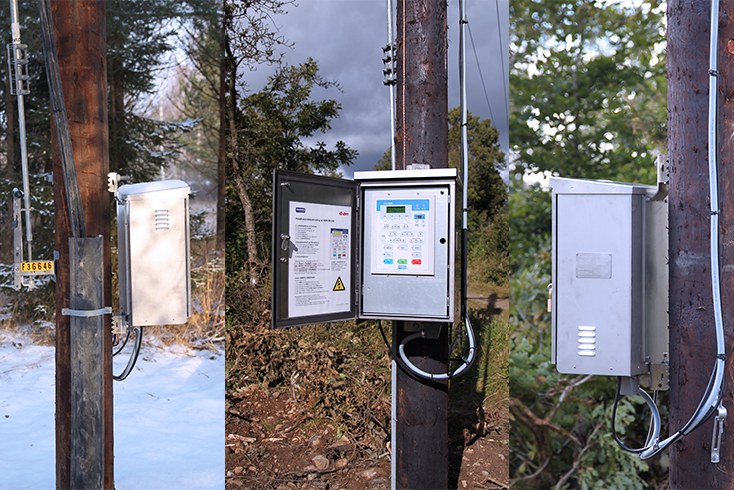 New Auto recloser

Application
Hughes Protection Relay App is an unique tool for a modern Electrical Utility Linesman. Operation of the breaker, change of relay parameters etc.