Recloser
controls
Recloser controls are the front line of the distribution power system, often located on feeders or in distribution substations. Recloser controls supply the intelligence to the network and handle the network protection and in many cases even the RTU functionality. The protective relay senses the faults, assists the vacuum circuit breaker module in an autrecloser to clear the fault on the line.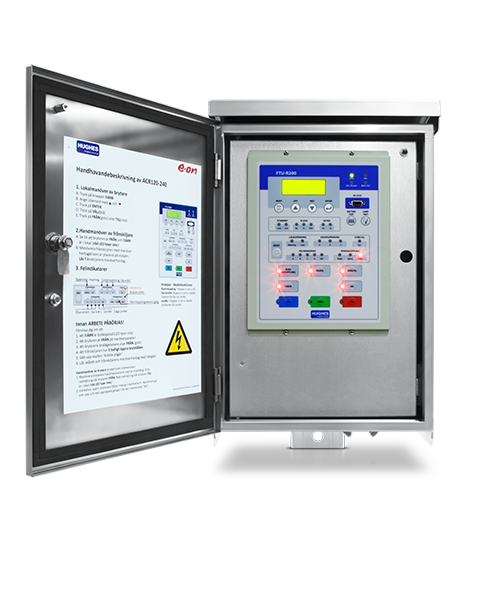 Remote configuration of all functions, including firmware updates

Directional sensitive protection elements for over current and earth faults

Multi communication protocol, Modbus, DNP, IEC -101, -104 and 61850

3Io Cos (Active Measuring) and Intermittent (> 150 μs) ground fault detection

Cabinet and mounting bracket of stainless steel

4 separate protection groups with automatic power flow direction change
WHAT ISRECLOSER CONTROL
FTU-R200 PROTECTIve RELAY
Fault clearance functionality and RTU functionality
Status monitoring – local and remote
Configuration and Control – local and remote (complete)
Power quality monitoring – local and remote
Wave form recording - to a COMTRADE file
Event recorder for fault analysis
Metering – local and remote
Communication – IP or serial
Multi signalling protocol - DNP3, IEC 870-5-101, IEC 870-5-104, MODBUS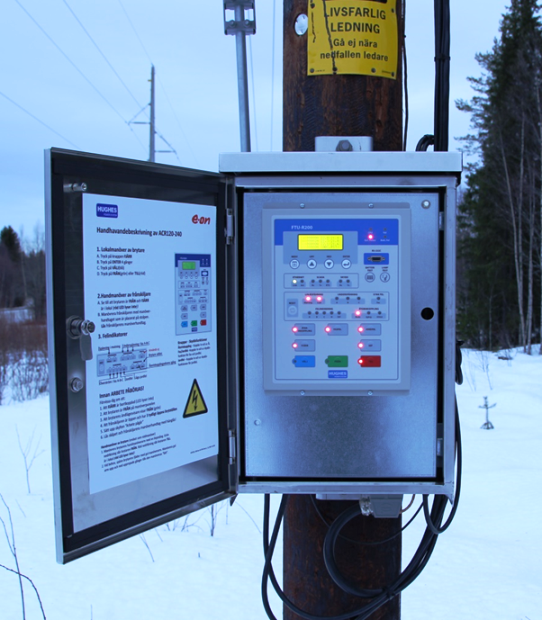 FUNCTIONALBLOCK DIAGRAM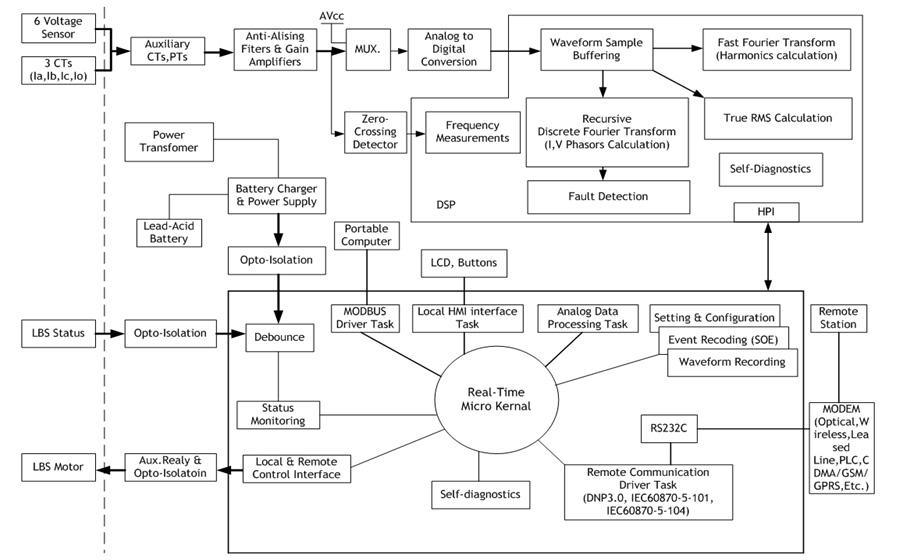 MAINTENANCESOFTWARE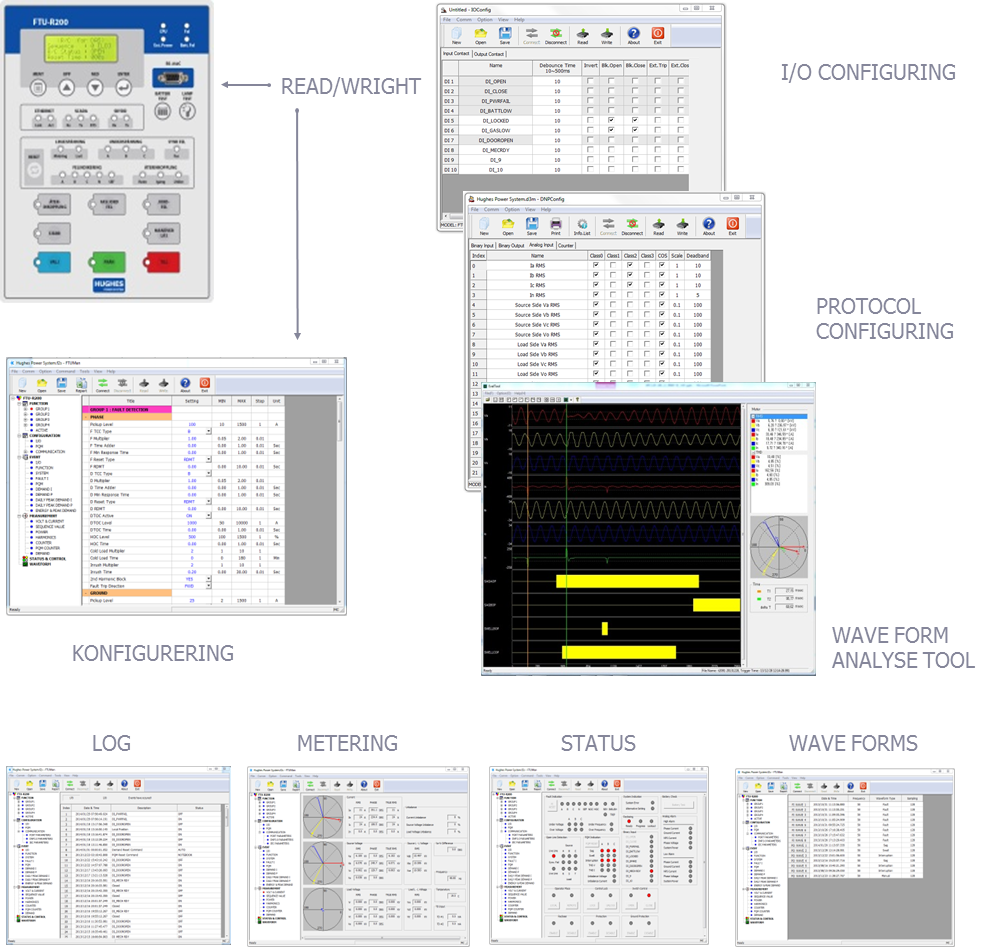 OVERVIEWMEETERING
Currents, Voltages:

RMS, Phases, Sequence components

Harmonics to 31st
Power :

Apparent, Active, Reactive, Power factor

Energy : 4-quadrant
Frequency
Demand Profile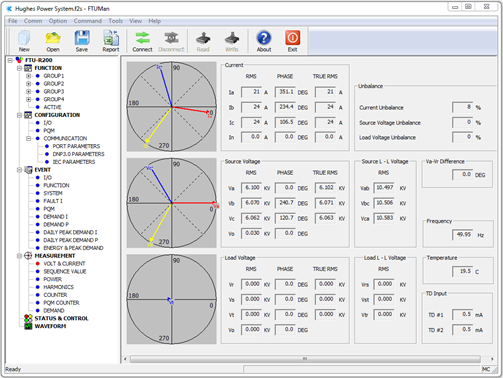 4 QUADRANTSMETERING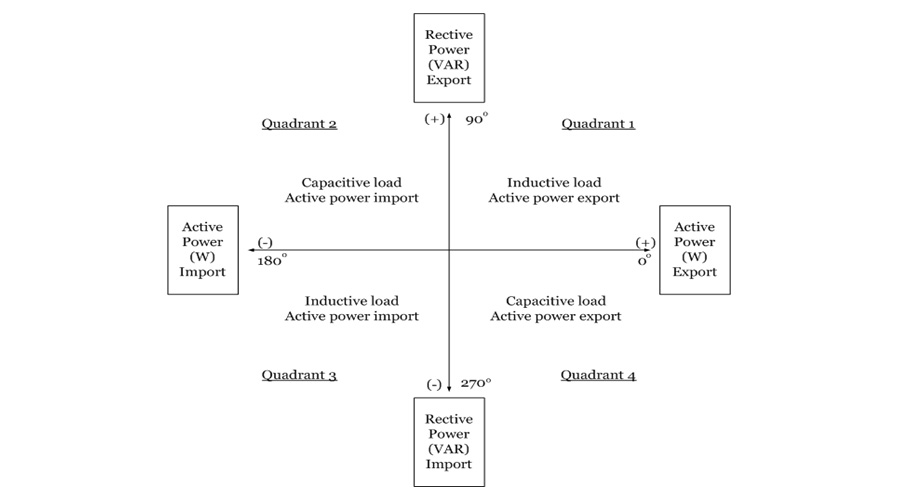 Fault passage indicator

When over-current element starts

3-stage over current protection (directional or non-directional)

Fast and delayed TC trip elements for phase and earth fault
54 types of built-in TC Curves and 4 Customized TC Curves
Definite time over-current element
Definite time HCT (High Current Trip)

SEF(Sensitive earth fault) detection
Auto reclosing (up to 4 shots)
Direct trip at high over current
Cold load protection(pickup adjustment)
Magnetizing inrush restraints
Sequence coordination
Open line detection
Phase sync. fail detection
Over voltage, under voltage, under frequency
4 setting groups, automatic setting group change depending on power flow
PROTECTIONCLASSICAL DIRECTIONAL ELEMENT
Lagging fault current by line impedance.
Cross polarized voltage with memory voltage
Miss-operation for SLG in line with Delta transformer. (Phase angles of three phase currents are same.)
Angular relationship of symmetrical sequence component currents and voltages can be used to determine direction to fault.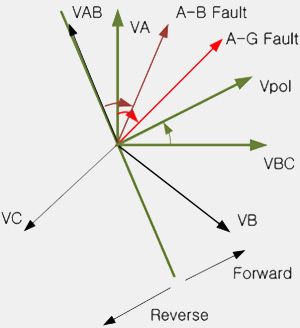 PROTECTIONIMPLEMENTED DIRECTIONAL ELEMENT IN FTU
Positive sequence voltage and current are used to detect the direction of phase fault.
Zero sequence voltage and current are used to detect the direction of ground fault.
The final result is from the combination of two elements.
Threshold of quantities can avoid wrong direction.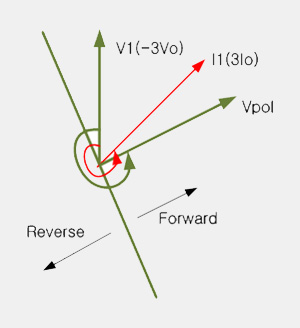 PROTECTIONRECLOSER TC CURVE
Curve type : IEC, ANSI, Recloser, Customized
Time multiplier
Time adder
Min. response time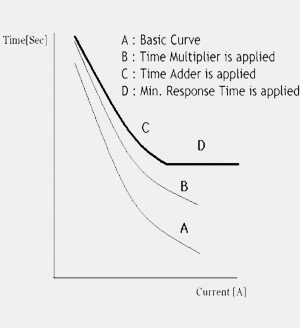 PROTECTIONRECLOSER TC CURVE PARAMETERS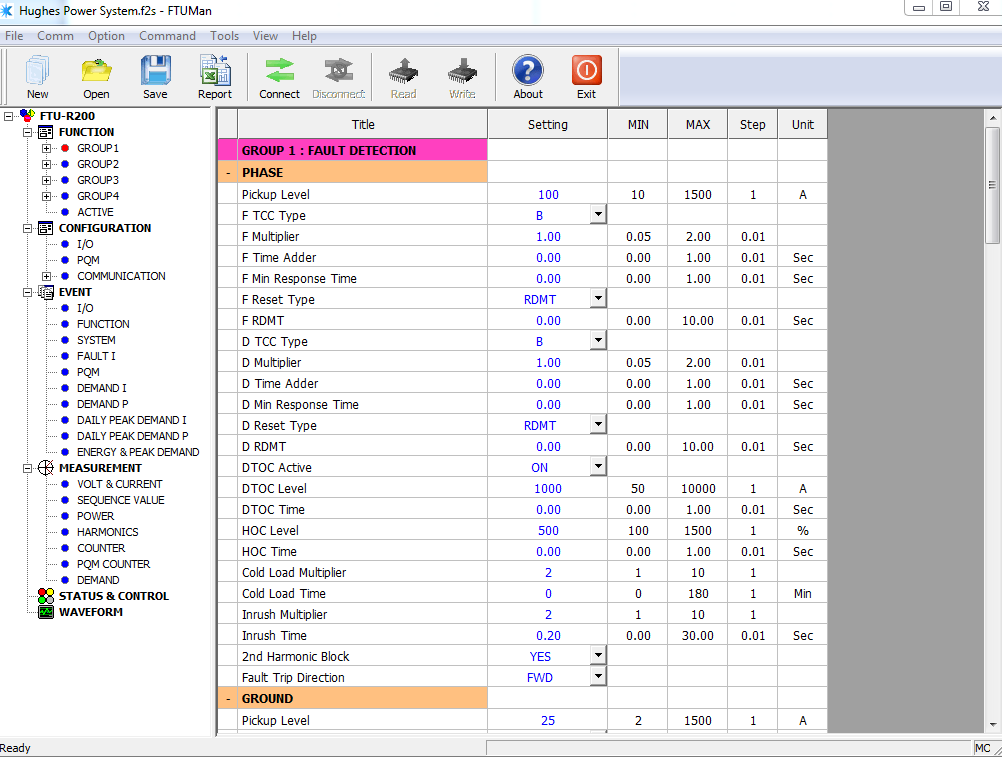 PROTECTION3 STAGES OC
IDMT
DMT
High current (Instantaneous)
The same reclosing sequence is applied to IDMT, DMT.
High current has separate reclosing count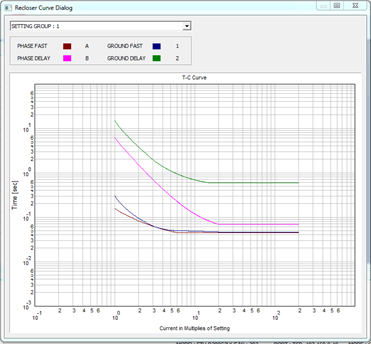 PROTECTIONSEF (SENSITIVE EARTH FAULT)
Core balance CT for extreme low earth fault detection. (0.1A > 63KΩ)
Core balance CT is needed for ungrounded system
Residual zero-sequence voltage is calculated internally
Adjustable protection zone -+30 – 90 degrees
Cos/sin θ algorithm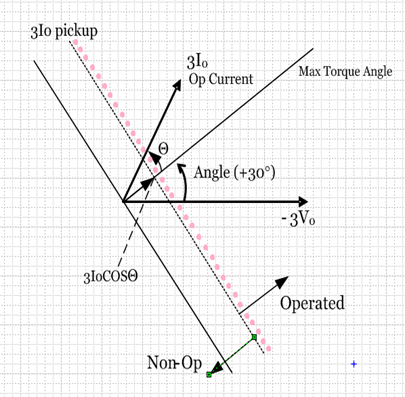 PROTECTIONEARTH FAULT CURRENTS IN UNGROUNDED SYSTEM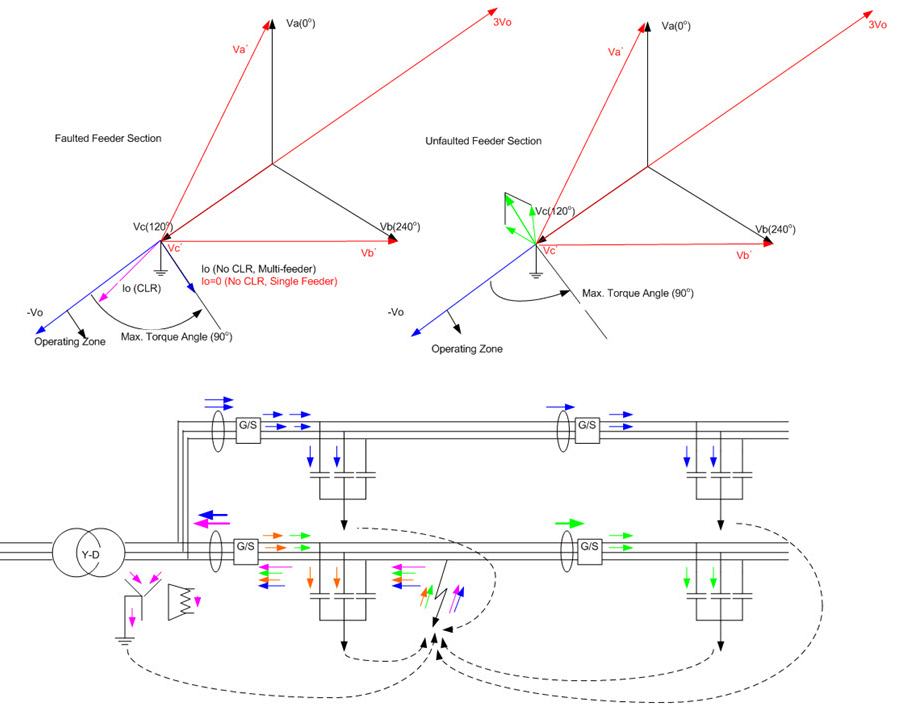 PROTECTIONINRUSH RESTRAINT
Magnetizing inrush current detection based on 2nd harmonic components in the current
Cold-load pickup : Pickup is multiplied during cold-load time
Inrush pickup : Pickup is multiplied during inrush time
PROTECTIONRECLOSING
Fast reclosing offers a relative high probability of rapid restoration of service for overhead distribution line.
4 reclosing attempts to restore service before locking out.
If fast reclosing is unsuccessful, the interrupter will go to lock out.
Direct lockout at high current faults.
Reclosing is generally not used for undergrounded feeders, as cable faults are more inclined to be permanent.
Trip to lockout is settable for phase, ground fault, and SEF respectively
Fast(instantaneous) element operation count can be set for phase and ground fault respectively
Dead times are settable for each shot(reclosing)
Separate dead times and reset time for SEF
Single shot operation : If the fault occurs in the set time after closing, recloser goes to lockout
Sequence coordination function is available
MONITORINGPOWER QUALITY
Sag, Swell, Interruption Detection

Status
Events : Time-stamp, Magnitude, Duration
Counters : Statistics for each phase, duration classified by IEEE 1159.
Accumulated interruption time
Waveform recording on events
Logs to a COMTRADE file

Harmonics

THD (Total harmonic distortion)
Each components up to 31th harmonics
Events by threshold setting, Counter

Unbalance

Voltage & current unbalance
Definite time characteristics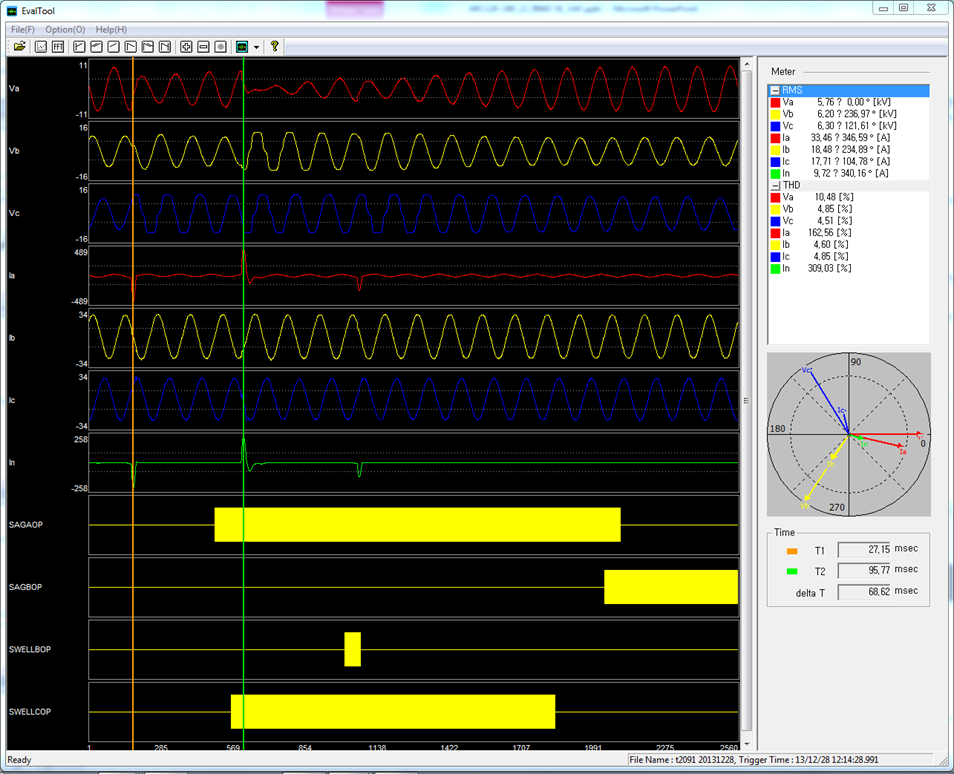 New Auto recloser

Application
Hughes Protection Relay App is an unique tool for a modern Electrical Utility Linesman. Operation of the breaker, change of relay parameters etc.