Auto
reclosers
The ACR series of Automatic Circuit Recloser for 6/15 kV, 22/27 kV and 33/40 kV is clearly the most advanced and safe product of its kind on today's market. It is built on the well proven OVX, Vacuum circuit breaker module and the FTU Recloser controller.
Non enclosed switch for extra safety

Integrated air break switch for personal safety

Solid insulated. No harmful SF6 gas

Operation On and Off with full load without electric power

Core balance transformer for detecting low earth faults

Frame of "Marine grade" premium stainless steel
WHAT IS ANAUTO RECLOSER
The OVX, Vacuum Interrupter module is solidly insulated with an integrated air break switch for extra personal operation safety. It has low weight, most of the parts are made of stainless steel and with focus on minimizing electro chemical corrosion. The bushings and isolators are made of epoxy and silicone rubber.

VACUUM INTERRUPTER MODULE (OVX) BUILDING BLOCKS
The OVX series of switch module components are a modular building system for easy tailored switches for different qualified solutions. The base is a Vacuum Interrupter Module as can take a multiple selection of options. The Air break Switch option and Earth Switch option can not be combined on the same OVX.
AIRBREAK SWITCH
The air break switch gives visible open points of all three phases for extra safety. The air break switch is synchronized with the vacuum interrupter and cannot be open or closed when the vacuum interrupter is closed.

EARTH SWITCH
The earth switch is synchronized with the vacuum interrupter and cannot be closed when the vacuum interrupter is closed.

PHASE CURRENT TRANSFORMERS
The Vacuum Interrupter module can be fitted with a combination of none, two or three phase current transformers with different winding ratio and with multiple tapings.

COREBALANCE CURRENT TRANSFORMER
An addition to the phase current transformers is the core balance current transformer as measure and detect extreme low earth currents. It is suitable for all networks with isolated neutral point.
This solution gives a secure detection of extreme low earth currents as the CCT unit combines all three phases in one winding.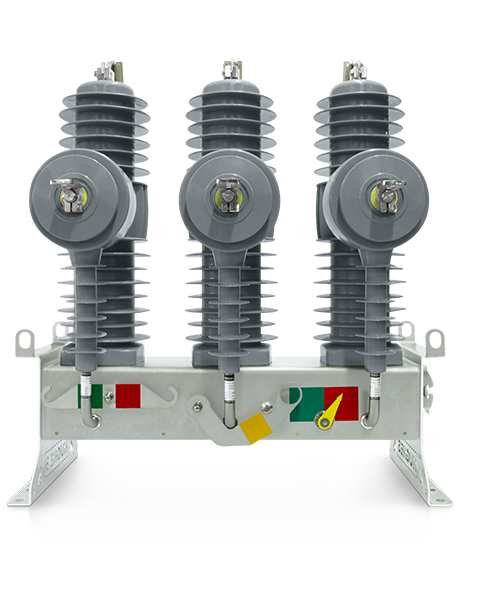 The ACR series are designed for use on overhead distribution lines, in distribution substation applications and as an advanced Smart Grid building block

The FTU protection relay is fitted with multiple microprocessors and digital signaling processors for high end performance. On top of the protection functionality, the FTU unit has also built-in RTU functionality for easy SCADA integration.

The FTU unit has built in DNP3 serial and TCP/IP and IEC 60870-5-101 serial and IEC 60870-5-104 TCP/IP and MODBUS serial /IP signaling protocol. The VIM and FTU unit can operate in complex Smart Grid application or in a single stand alone application.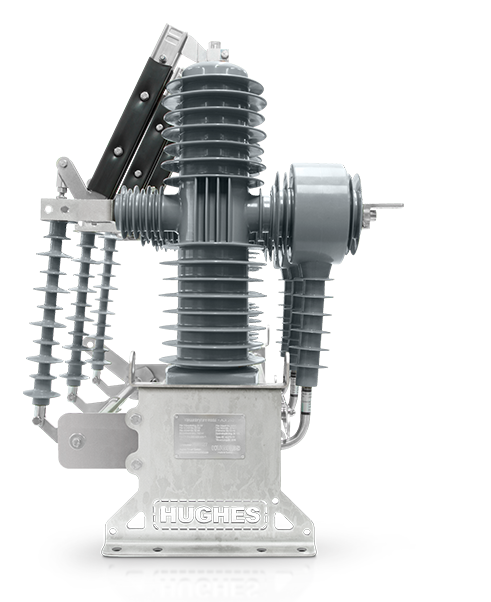 WHO NEEDS AUTO RECLOSERS?
Utilities who has weak network infrastructures
Many (SAIFI) or long (SAIDI) un-planned interruptions
Lifetime extension of existing network infrastructures
Hostile climate – Cold or Hot!
Many customers per km cable or very rural areas
Regulatory perspective – heavy fines at interruptions
SAIFI = system average interruption frequency index
SAIDI = system average interruption duration index
DISTRIBUTION SWITCHES / BREAKERSTECHNICAL DEVELOPMENT
PROGRESS FROM 1980 TO 2013.

From gas / electrical actuators with air break switches
To high preformance vacuum breakers with low maintenance cost and recloser functionality.
AUTO RECLOSER APPLICATIONS
Fault clearance in over-head line networks
Replacement of substation breakers
Fault clearance in underground cable networks
Capacitor bank switch
Trunk and spur lines
Dynamic networks with moving "normal open point"
Remote control
COMPARISONAIR-BREAK SWITCH VS. VACUUM BREAKER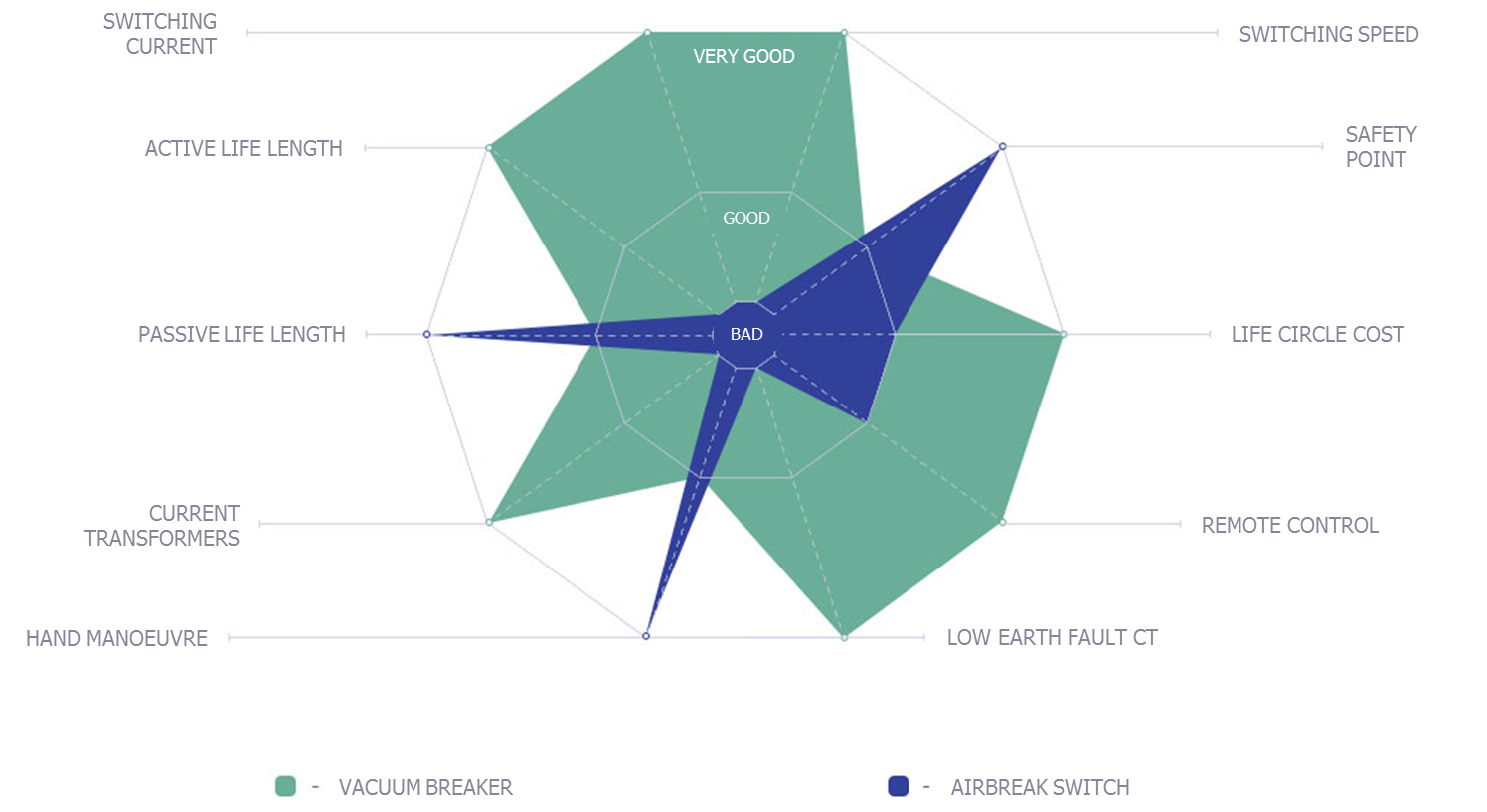 RECLOSER CONTROLPROTECTION RELAY
Phase over current
Low earth fault 0.1A
Standard and custom current profiles
Directional sensitive
SEF (Sensitive Earth Fault)
Phase angle window (+-) 30-90° around torque point
Cos/Sin θ algorithm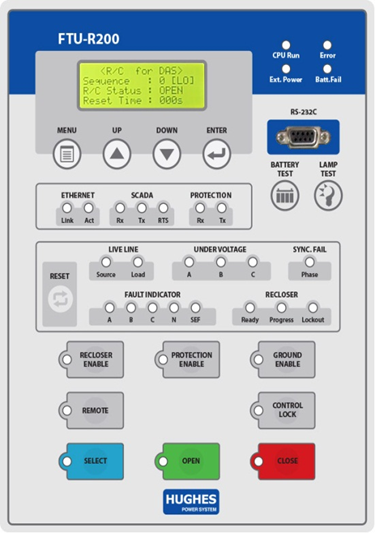 Measurement of all electrical parameters
Quality
Harmonics up to 31st Returning cold load
Transformer magnetizing, 2nd harmonic IP and serial SCADA connection
Simple local control with big buttons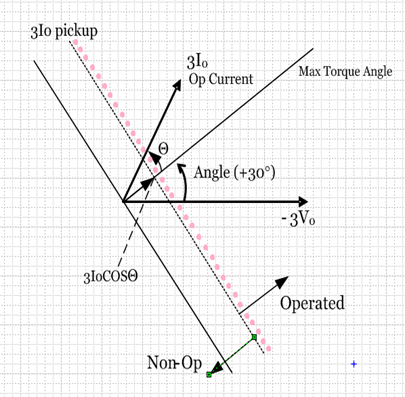 AUTO RECLOSER'SCOMMUNICATION
TCP/IP via TP, Fibre or copper wire
Serial RS-232 or RS-485/422 Broadband, TP or ADSL / Fibre modem
Digital radio modem
Compatible with Radius NetMan CCU
Compatible with SGN Plexman 2 GSM/3G/4G serial or fixed IP address
CDMA450 (Net 1 in Sweden, C-Montech in Russia)
TETRA
Satellite via Iridium or InmarSat​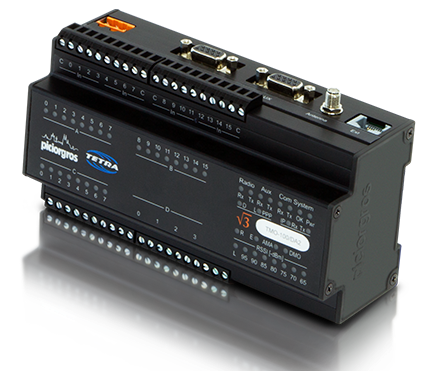 New Auto recloser

Application
Hughes Protection Relay App is an unique tool for a modern Electrical Utility Linesman. Operation of the breaker, change of relay parameters etc.