Recloser
controls
Recloser controls are the front line of the distribution power system, often located on feeders or in distribution substations. Recloser controls supply the intelligence to the network and handle the network protection and in many cases even the RTU functionality. The protective relay senses the faults, assists the vacuum circuit breaker module in a recloser to clear the fault on the line.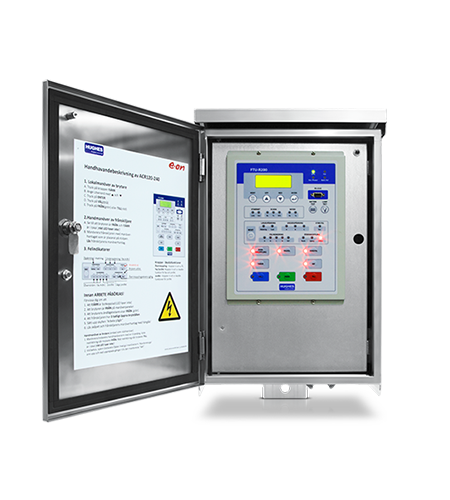 Remote configuration of all functions, including firmware updates

Directional sensitive protection elements for over current and earth faults

Multi communication protocol, Modbus, DNP, IEC -101, -104 and 61850

3Io Cos (Active Measuring) and Intermittent (> 150 μs) ground fault detection

Cabinet and mounting bracket of stainless steel

4 separate protection groups with automatic power flow direction change
FTUR200 RELAY DESCRIPTION
The FTUR200 model of protection relay supplies the intelligence to the network and handles the network protection and in many cases even the RTU functionality. The protective relay senses the faults, assists the vacuum circuit breaker module in a recloser to clear the fault on the line. Panel is available in multiple languages.

Key features:
100% remote configuration and control;
Integrated multi-functions on new microprocessor based platform - Fault detection & Protection, Metering, Control, Status monitoring, Power quality monitoring;
Directional protection, Negative sequence protection, SEF and lots of built-in over-current protection curves including IEC, ANSI/IEEE, Recloser curves and customized curves;
Distance to fault function;
4 setting groups and automatic setting group change function;
4 quadrants energy metering & load profiling;
Multi-port, multi-protocol communication support (DNP3.0, DNP3.0 over TCP/IP, IEC60870-5-101/104), modem control & dial-up function for SCADA;
DNP3.0 subset level 3 with information index mapping & class assignment;
Built-in Protocol monitor for integrating FTU with SCADA system;
Built-in Fault simulator with multiple sequences;
Large size memory for load profiling, event and fault recording. Available Disturbance waveforms with COMTRADE format;
Configurable digital inputs and outputs;
Intelligent power supply & battery charger with built-in self-diagnosis & test function;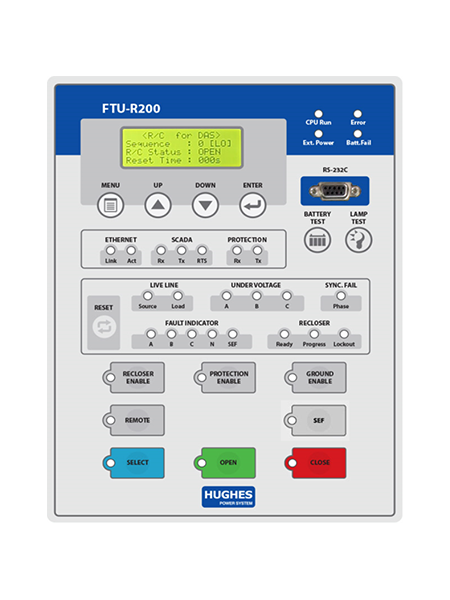 FTUR200 RELAY FRONT PANEL
The FTUR200 protection relay has the following components:
Information display (1);
Menu buttons block (2) with the function to select different menus and levels;
Remote communication indicators block (3) displaying communication activities;
Fault indicators block (4) with fault indicators in phases, under voltage etc;
Reclosing functions enabling buttons block (5) with the function to turn on and off reclosing function;
Local/Remote button (6) with the function to switch between local and remote control of the recloser;
Select button (7) is a switch operation button with function Select before execute;
Open button (8) with the function to open the OVX vacuum circuit breaker;
Close button (9) with the function to close the OVX vacuum circuit breaker;
SEF Enable button (10) with the function to turn On and Off Sensitive Earth Fault detection;
Battery and Lamp test buttons (11) with the function to test all LED's and the battery function;
Local programming socket (12) is for the local programming via a USB or RS-232 cable;
Power supply indicators (13) informing that the line has lost the power;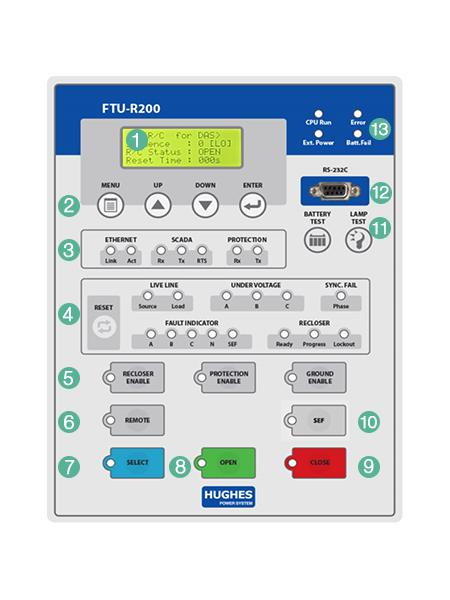 FTUR200 RELAY CONTROL FUNCTIONS
4 contacts output, 2 high-speed outputs:
Open(Trip), Close, Spares;
Configurable : Name, Pulse width Features;
External Trip inputs;
Switch Control:
Operator place : Remote, Local (Front Panel/PC Tool);
Interlocks : Control Lock, Mechanical Lock, Current Switch status;
Close interlock conditions (Selective) : Live load, Phase sync. fail;
SBE (Select Before Execute):
Secure switch operation;
SBE timeout (settable);
Auto reclosing:
Recloser On/Off;
Protection On/Off;
Ground protection On/Off;
SEF protection On/Off;
Battery Test, Reset Indicators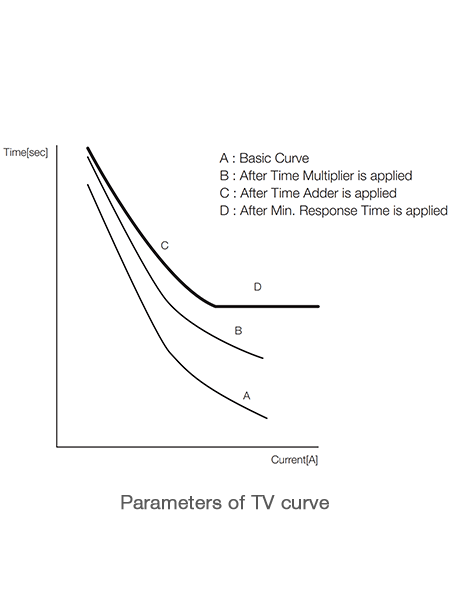 FTUR200 RELAY PROTECTION FUNCTIONS
3-stage over current protection (directional or non-directional);
Fast and delayed TC trip elements for phase and earth fault;
67 types of built-in TC Curves (IEC, ANSI, Recloser curves) and 4 Customized TC Curves;
Definite time over-current element;
Definite time HCT (High Current Trip);
Negative sequence over-current protection;
Earth fault detection Directional or Non directional;
SEF (Sensitive earth fault) detection 3lo;
3Io Cos detection active earth fault detection;
Intermittent earth fault protection (>150µs min peak);
Adjustable protection zone ±30 - 90°;
Cold load protection (pickup adjustment);
Magnetizing inrush restraints;
Sequence coordination;
Open line detection;
Phase synchronisation fail detection;
Over voltage, under voltage, under /over frequency;
Auto reclosing (up to 4 shots) Operated;
Auto sectionalizing;
4 setting groups, automatic setting group change depending on power flow;
Protection fault simulation;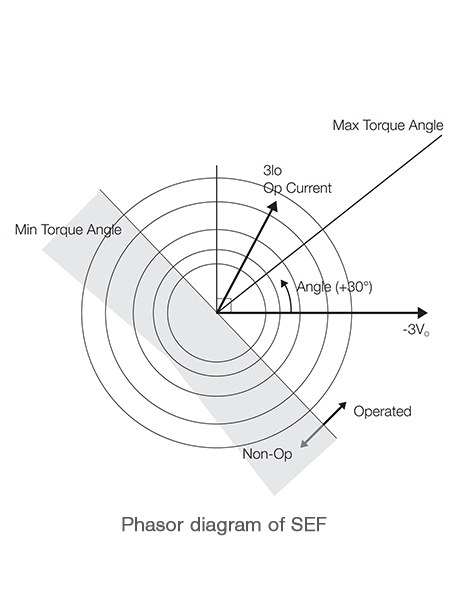 FTUR200 RELAY METERING FUNCTIONS
128 Samples per cycle;(50Hz = 6400 times per second);
Galvanic isolation through Aux. CT & Aux. PT;
Secondary of 1000:1 CT ~ 12.5A > 12.5kA in short circuit current;
Up to 200% of rated input voltage;
Currents (A,B,C,N), Voltages (A,B,C/R,S,T) : RMS, Phasors, Sequence components, Harmonics;
Power : Apparent (kVA), Active (kW), Reactive (kVar), Power factor;
Energy : 4-quadrant metering, import / export active energy, inductive / capacitive reactive energy;
Frequency;
Demand Profile;
Report value by dead band;
FTUR200 RELAY COMMUNICATION FUNCTIONS
DNP3.0 Subset level 3 serial, DNP over TCP/IP;
IEC60870-5-101 serial, IEC60870-5-104 TCP/IP;
MODBUS RTU serial, MODBUS over TCP/IP;
IEC 61850 över TCP/IP*;
Index mapping & class assignment;
SMS to Cell phone;
Built in protocol monitor;
Built in SCADA master simulator;
IRIG-B external synchronization time*;
PRP (Parallel Redundancy Protocol), HSR (Highly Seamless Redundancy) IEC 62439-3*;
Dual IP fiber or TCP connection*;
FTUR200 RELAY EVENT/FAULT LOG
SOEs are stored on non-volatile memory with 1ms time-stamp;
Event history buffers are categorized by group;
I/O Events, Function Events, System Events;
Fault current Events;
PQM Events;
Demand I,P,Q;
Daily Max. I,P,Q;
Counter : Switch open, Fault, Restart;
FTUR200 RELAY FAULT WAVEFORM RECORDING
8 faults, 6 PQM waveforms can be stored on non-volatile memory;
1 Manual triggered waveform;
128 samples/cycle, 20 cycles;
Waveforms are stored as COMTRADE file format through PC maintenance software;
Memory size : 2 Mbytes;
FTUR200 RELAY OPTIONAL FUNCTIONS
Optional software functions:
IRIG-B external GPS timing protocol;
IEC61850 communication protocol;
PRP redundant communication protocol (requires 2 x LAN or 2 x Fiber ports);
HSR redundant communication protocol (requires 2 x LAN or 2 x Fiber ports);
Optional communication boards:
2 x 100Mbit LAN board;
1 x Fiber port;
2 x Fiber ports;
New Auto recloser

Application
Hughes Protection Relay App is an unique tool for a modern Electrical Utility Linesman. Operation of the breaker, change of relay parameters etc.