Time-voltage
sectionalizers
TVS time - voltage sectionalizer (Autoself TM) is a control system, including the control cabinet and a disconnector or a load break switch. It can be connected to the most existing switch elements in the network. The Autoself has the same purpose as a recloser but utilizes a much simplier sectionalizing algorithm. The product's reliability has been proven for more than 30 years of operation in electrical distribution networks.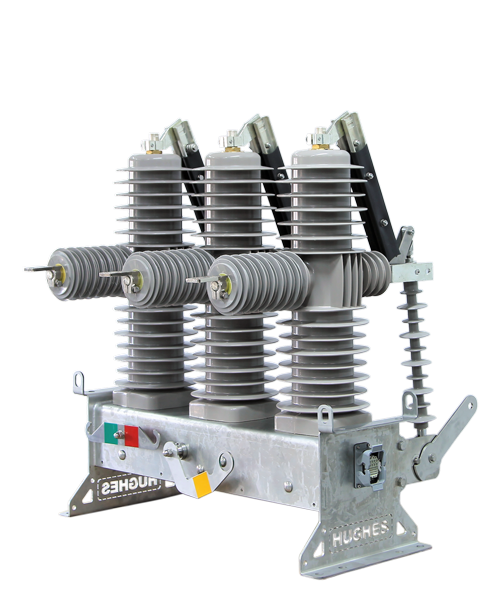 Non-enclosed switch for extra safety

Integrated air break switch for personal safety

Operation On and Off with full load without electric power

Follows the feeding substations reclosing sequence

Easy installation

Frame of "Marine grade" premium stainless steel
TVS405 FOR LBSDESCRIPTION

Hughes TVS405 series of sectionalizer is designed for use on overhead distribution lines with the voltage range 33-40kV as an advanced Smart Grid building block.

The tvs405 series for a load break switch model range:
TVS405 model has the LBS405 vacuum load break switch equipped with ABB VG10 2000A/20kA 40.5kV vacuum interrupter and voltage sensors on the load side;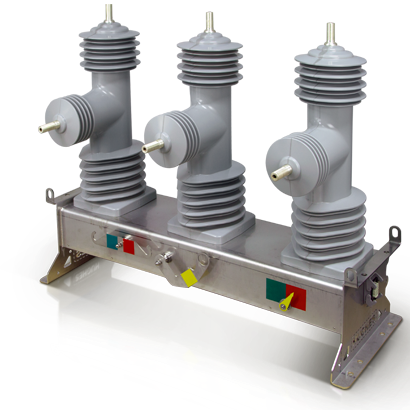 TVS405 FOR LBSTVS405 MODEL

The tvs405 SECTIONALIZER set for a load break switch includes: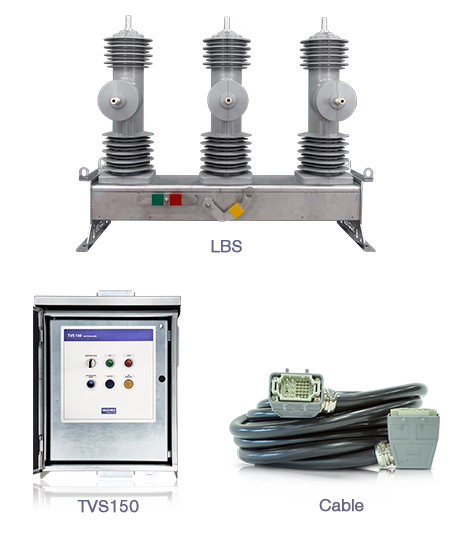 The LBS405 vacuum load break switch components:
ABB VG10 2000A/20kA 40.5kV vacuum interrupter (1);
Integrated 3x phase current transformers (2);
Integrated voltage sensors on load side (3);
Frame (4) made of 5 and 4mm stainless steel to eliminate electrochemical corrosion;
Electrical circuit (5) made of high grade copper;
IP67 Control cable contact (6);
Manual maneuvering (7) of vacuum interrupter;
Spring stored energy operating mechanism (8);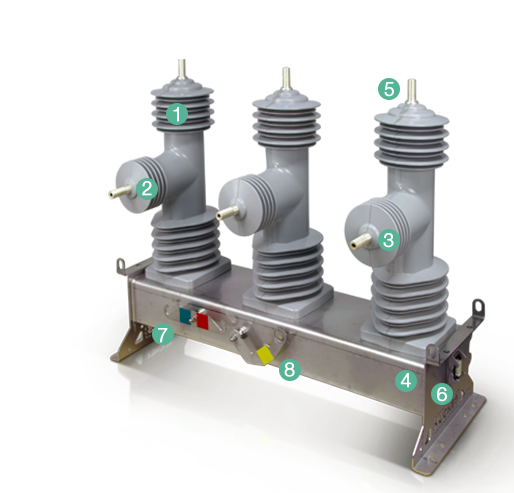 tHE TVS405 SECTIONALIZER FOR LOAD BREAK SWITCH ADDITIONAL ACCESSORIES:
Rugged mounting brackets (1) for different pole types;
New! Grounding system cable theft alarm (2). See details here;
Antenna set for GSM/4G including: antenna, multi band professional glass fibre rod; pole mounted bracket for antenna; antenna cable 8M RG-213 N-N professional connectors and surge arresters for antenna N-N connectors;
Voltage transformer for 33/38kV, phase to phase connected, epoxy insulated with pole mounting brackets;
Insulations transformator 230/230 VAC
Surge arresters (3) for 33/38kV with mounting brackets;
Drop out fuses (4) for 33/38kV with mounting brackets;
Complete list of accessories is here.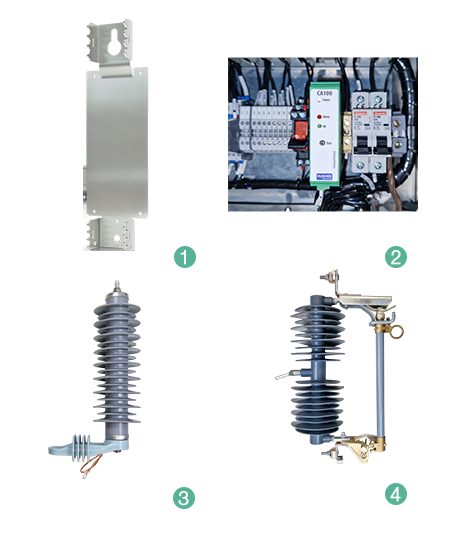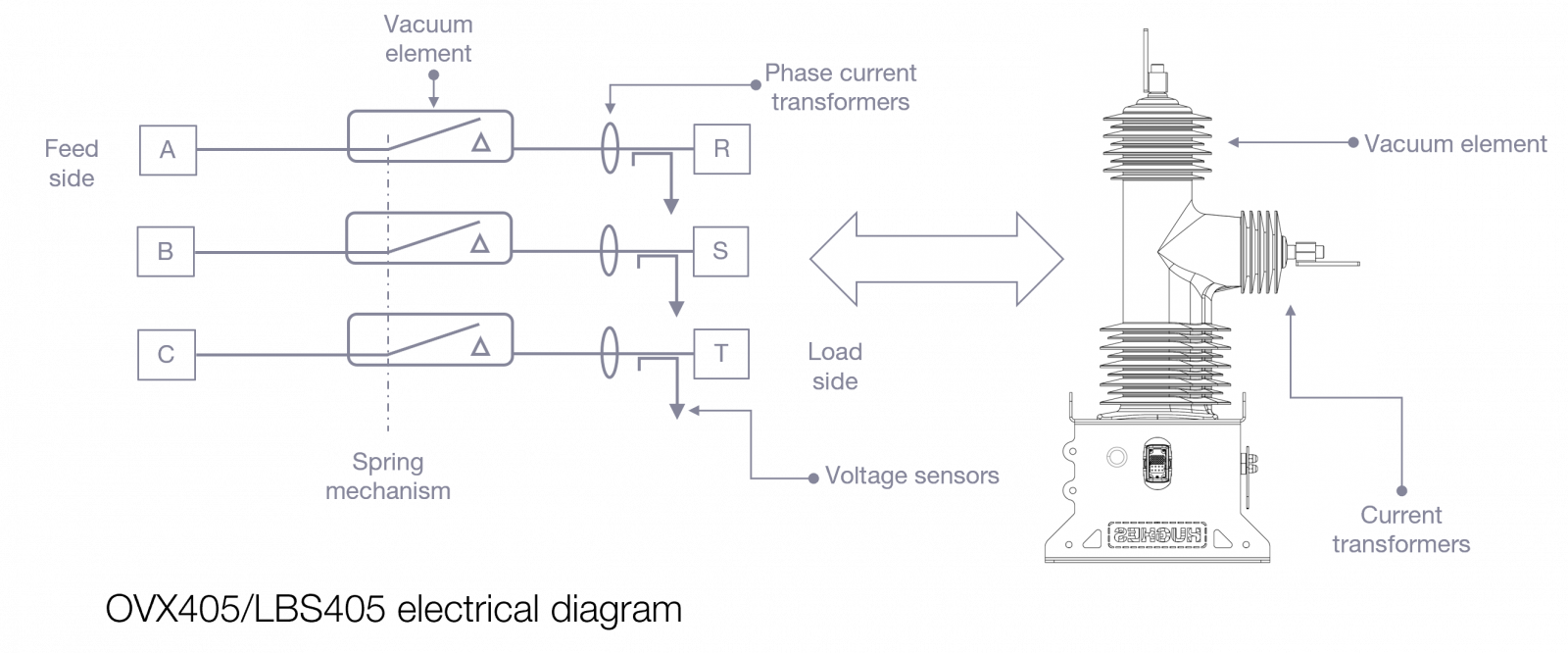 TVS405 FOR LBSINSTALLATIONS
The TVS405 model of sectionalizer can be installed on one wooden or concrete pole or between 2 poles.

The standard installation includes below elements in the following sequence:
Voltage transformer (1)
Vacuum load break switch (2)
Interconnecting cable (3)
Control cabinet (4)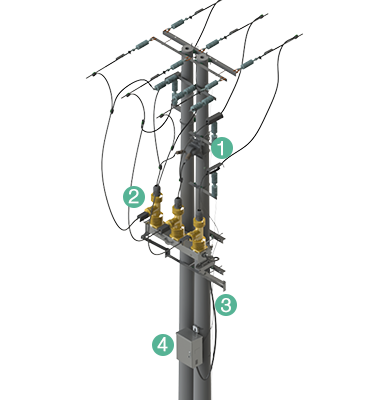 TVS405 can be installed as one of the blocks of a sectionalizing scheme.
The installation includes below elements in the following sequence:
Voltage transformer (1)
Vacuum load break switch (2)
Control cabinet (3)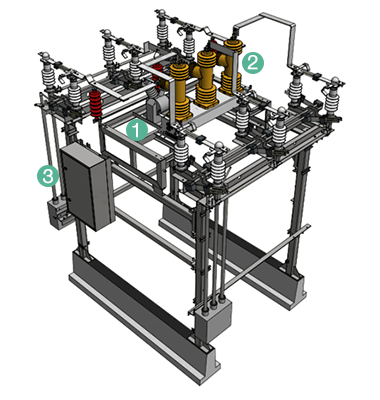 TVS405 FOR LBSTECHNICAL DATA
| | |
| --- | --- |
| Description | LBS405 |
| Rated operation voltage, VDC | 24-48-110 |
| Rated maximum voltage, kV | 40 |
| Rated basic impulse level, P>P, kV | 185 |
| Rated basic impulse level, P>E, kV | 170 |
| Power frequency withstand 50/60Hz, Dry, kV | 70 |
| Power frequency withstand, Wet, kV | 60 |
| Rated power, W | 40 |
| Rated continuous current, A | 1200 |
| Rated fault making current, kA | 42 |
| Rated fault breaking current, kA | 16 |
| Rated fault duration time, s | 3 |
| Line charging current, A | 5 |
| Cable charging current, A | 40 |
| Contact resistance, VCB, µΩ | < 40 |
| Network frequency, Hz | 50/60 |
| Description | Winding 1 |
| Design min mechanical/electrical | 15.000 |
| Dimensions (LxWxH), mm | 1470x621x1070 |
| Mass (weight), kg (lbs) | 155 (342) |
| Operating temperature C | -45 - +70 |
| Humidity | 100% at 25 C |
| Enclosure | IP55-65, non-magnetic stainless steel, optional painted in RAL or ANSI colour |
| Bushing type | Hydrophobic Cycloaliphatic Epoxy (HCEP) |
| Phase to phase distance, mm | 550 |
| Creep distance to ground (interrupter isolator), mm | 1310 |
| Max installation altitude at rated BIL, m | 3000 |
| Description | |
| Design specification | IEC 62271-100 |
| Marking specification | IEEE std C37.60 |
| Operation sequence, no charge | 25 ms trip - 50 ms close - 25 ms trip |