Motor
operating drive
EOA500 and the latest addition EOA600 series of motor operating drives are intended to be used in air break switch/disconnector applications in electrical distribution networks and for electrical trams and rail networks. The products are characterized by its unique design with low motor start current and high electro mechanical efficiency. The devices are designed for manual and automatic remote control of air break switches. The motor operating drives are simple to install and have all the necessary electronics and control panel built in.
Unique motor mechanism with low start current and high start torque

Secure self-locking motor mechanism

Easy installation and compatible with most air break switches

Optional automatic sectionalizing logic

Optional remote blocking unit for locking the output shaft for extra safety

High quality stainless steel for cabinet and parts
WHAT IS A MOTOR OPERATING DRIVE FORRAILWAY APPLICATIONS
The EOA600R railway motor operating drive, characterized by its innovative design, is a complete solution from a pole to SCADA system.

The unit is intended for control of disconnectors / earth switches with or without load break heads. The motor drive is easy to install and has built-in all functions for SCADA integration.

The motor drive can be directly applied on most 0.5 to 25 kV DC/AC single or double (AT or BT system), gang operated 3-phase disconnectors. The unit has a complete interface to SCADA system with multiple dry contacts. Optional built in 4G-LAN-Fiber RTU is available.

MAINADVANTAGES
Unique motor mechanism with low starting current and high starting torque
Secure self-locking motor mechanism
Optional lock solenoid on motor shaft for extra security
Optional DC control and AC motor
Easy installation and compatible with most air break switches
Made of stainless steel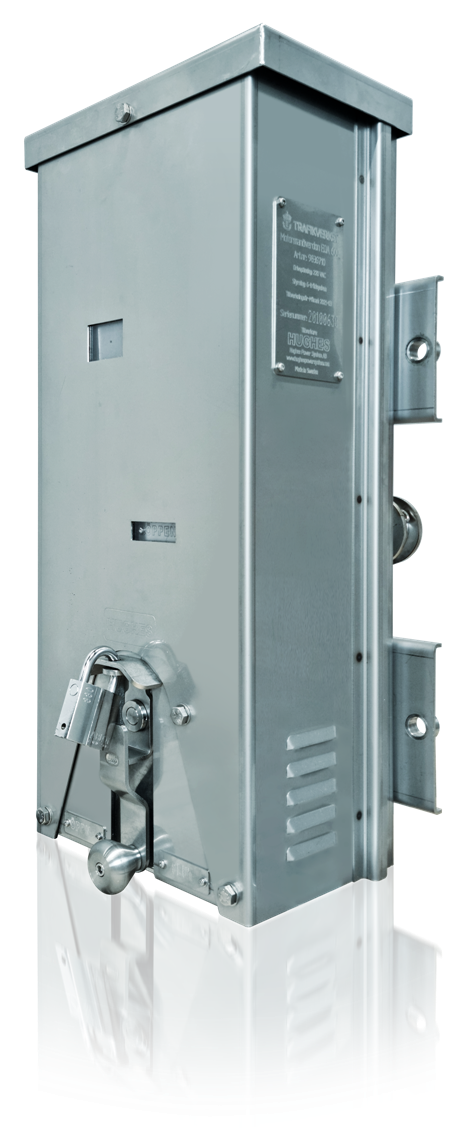 INTERNALSTRUCTURE
1. Main motor

2. Trapezoid screw mechanism

3. Magnetic assisted switches

4. Hand crank

5. Out going torque shaft

6. Pad lock facility

7. Cabinet wall sealing

8. Cable glands, 3 pcs
TECHNICAL CHARACTERISTICS
| | |
| --- | --- |
| PARAMETER | VALUE |
| Nominal voltage V AC/DC (Un) | 24/110/230 |
| Nominal frequency | DC, 16.7, 50, 60 Hz |
| Voltage range | 0.7...1.2 x Un |
| Nominal current, A @230 VAC 50 Hz | 2 |
| Electrical connection | Main motor power, Switch position indication, Local – remote operation, Remote block in-out, Remote block indication |
| Material of cabinet | Non magnetic stainless steel 1.4404, opt GRP |
| Dimensions cabinet, (HxWxD) mm | 615 x 275 x 185 |
| Weight, kg | 32 |
| Operational temperature range, °C | -50…+60 |
| Degree of protection to EN 60529 | IP54 |
| Max. installation height above sea level (m) | 4,000 |
| Linear stroke (mm) | 50 – 250 depending on operation arm |
| Switching time (0.8...1.1 x Un) seconds | 1.5 - 2.5 |
| Stroke velocity [mm/s] | 50 – 100 |
| Actuating force in end positions [kN] (disconnector close / open) | min. 4.0 |
| Actuating force at half displacement [kN] | min. 2.5 |
| Remote control, Option | RTU with IEC 60870-5-101 serial, -104 IP, Modbus protocol |
| Remote blocking, Option | Bi-stable remote blocking of actuating function |
| Impulse control Main motor, Option | Control input pulse 10-500 ms |
| Impulse control Remote blocking, Option | Impulse control Remote blocking, Option |