Indoor vacuum
circuit breaker
The VX4 series of kiosk/substation vacuum circuit breaker is intended to be used in transformer substations and switching points. It has a wide range of accessories as truck's, different types of connection arms and contacts, commissioned with or without integrated current transformers. The VX4 circuit breaker series includes the models for the voltage range 6/12kV and 22/24kV and is built to remain in operation for more than 30 years without major maintenance.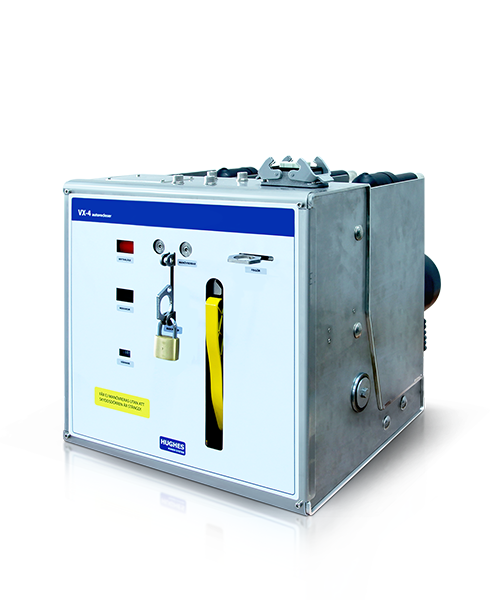 Non enclosed switch for extra safety

Small foot print

Operation On and Off with full load without electric power

Solid insulated. No harmful SF6 gas

Frame of "Marine grade" premium stainless steel

Epoxy bushings with silicon insulation
VX4-24 KIOSK VCBDESCRIPTION

Hughes VX4-24 series of kiosk vacuum circuit breaker is designed for use on underground distribution lines with the voltage range 22-24kV, in distribution substation applications and as an advanced Smart Grid building block.

The VX4-24 series of kiosk vacuum circuit breaker model range:
VX4-24 model of vacuum circuit breaker is equipped with 24kV bushings;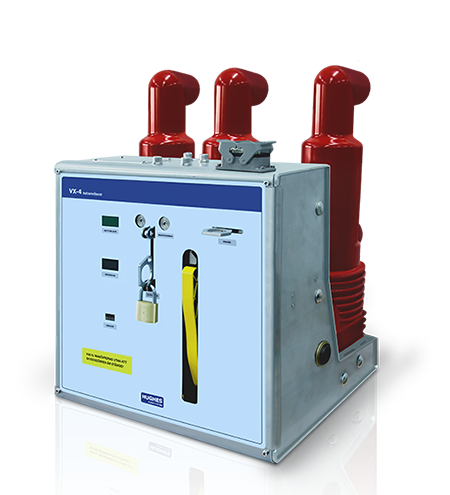 VX4-24 KIOSK VCBCOMPONENTS

The VX4-24 vacuum circuit breaker components:
24kV bushings (1) of epoxy, no SF6 gas or oil;
High current vacuum breaker element (1), AMF type for 630 or 1250A continuous line load and 25kA fault current in 3 sec;
Frame (2) made of 5 and 4mm stainless steel to eliminate electrochemical corrosion;
Electrical circuit (3) made of high grade copper;
Manual or remote maneuvering (4);
Padlock facility (5) for mechanical blocking of operation;
Optional components:
Integrated 3x phase current transformers (6);
Clip-on current transformers and a core balance transformer for low earth faults detecting (cable mount);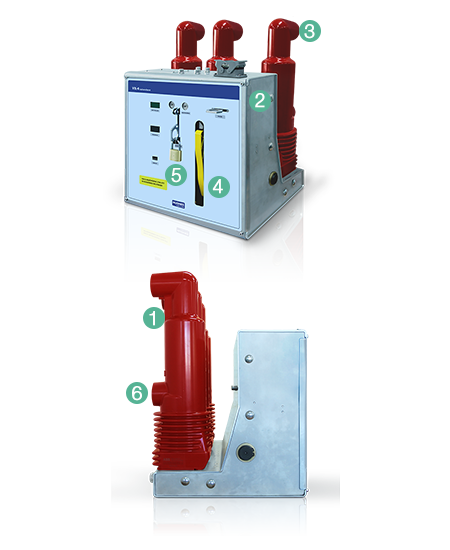 VX4-24 KIOSK VCBELECTRICAL DIAGRAM

VX4-24 KIOSK VCBEXTERNAL ACCESSORIES

the VX4-12/24 kiosk VACUUM CIRCUIT BREAKER EXTERNAL ACCESSORIES:
Hand crank operated truck mount (1) with interlock function;
New! Grounding system cable theft alarm (2). See details here;
Clip-on current transformer, winding: 150/1;
Core balance transformer (3), winding: 20/1;
Voltage transformer (4) 1-phase connection 12 or 24/.110 kV class1, 50 VA;
Complete list of external accessories is here.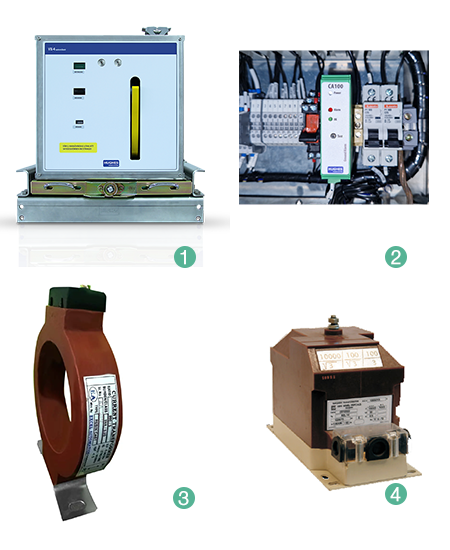 VX4-24 KIOSK VCBINSTALLATIONS


VXR installation in a substation breaker bay.
Left: inner protection door closed. Circuit breaker operation buttons (1) extender is mounted on the door;
Right: VXR (2) installed in a mounting frame (3). Upper side connected to a disconnector (4) with visual open points. Lower side connected to an outgoing cable (5);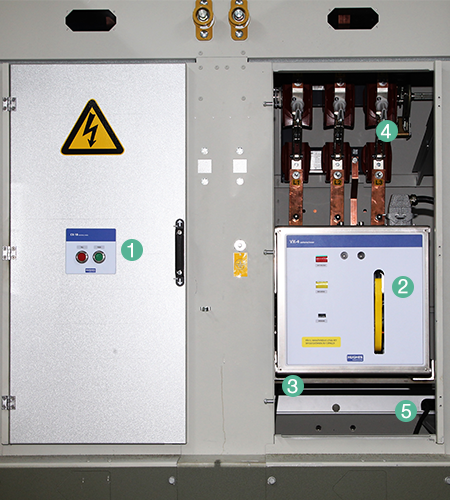 VX4-24 KIOSK VCBTECHNICAL DATA
Description
vx4-12
vx4-24
Rated operation voltage, VDC
24-48-110
24-48-110
Rated maximum voltage, kV
12
24
Rated basic impulse level, kV
95
125
Rated power, W
40
40
Rated continuous current, A
630/1250
630/1250
Rated fault making current, kA
63
63
Rated fault breaking current, kA
25
25
Cable charging current, A
20
40
Line charging current, A
5
10
Rated fault duration time, s
3
3
Contact resistance, VCB, µΩ
< 35
< 35
Network frequency, Hz
50/60
50/60
Description
Winding 1
Winding 2
Winding 3
Phase CT clip-on type
150/1
Phase CT type 1
200/1
400/1
600/1
Core balance CT
20/1
Description
Design min mechanical/electrical
20.000
20.000
Dimensions (LxWxH), mm
460x447x537
587x829x643
Weight, kg
75
95
Description
Operating temperature, °C
-45 - +70
-45 - +70
Humidity
100% at 25 C
100% at 25 C
Enclosure
IP55-65, non-magnetic stainless steel, optional painted in RAL or ANSI colour
Bushing type
Epoxy core
Phase to phase distance, mm
150
210
Max installation altitude at rated BIL, m
3000
3000
Description
Design specification
IEC 62271-100
Marking specification
IEEE std C37.60
Operation sequence, no charge
25 ms trip - 50 ms close - 25 ms trip